Jack and Owen
Make Bananas Flambé
After a quick lunch, Jack and Owen wanted to make bananas flambé for dessert. They remembered the previous times when they applied their culinary abilities to my favorite dessert. Jack is busy stirring.
While I double-checked the amount of cinnamon with the recipe, Owen awaits his turn.
Owen, the causal chef, takes his turn. Jack is cautious about whether his younger brother can actually handle this task.
Since I never think there is enough brown sugar, I added a handful. Doing so will assure that there is plenty of the cinnamon and brown sugar sauce for each person.
We cut up a half-dozen bananas into quarters. Finally, I added the rum, cautioning the boys that I had added an extra amount of rum. By doing so, it would be an extremely large explosive fire. Owen took my warning and wanted to go into the living room with his mother while Jack stood on the steps. Jack attempts to explain to Owen that the lighting would be a big deal, which had no assuring effect upon his younger brother.
The explosive fire wasn't quite as fiery as I had predicted, but it did burn for several minutes.
We added ice cream to the concoction and enjoyed dessert. Then we went out on Lake La Mancha. We paddled to the tunnel and enjoyed the echoing of our voices as we sang, "Yo Ho Ho and a Bottle of Rum."
The next time that Jack and Owen apply their culinary skills and go kayaking on Lake La Mancha, we will invite Miguel Cervantes to join us. He was the writer of what is viewed by many as the first modern novel, The Ingenious Nobleman Sir Quixote of La Mancha or what we know as Don Quixote. In fact, Don Quixote is a mentor of mine.
One additional issue, I believe that I read somewhere that Miguel Cervantes' favorite dessert was bananas flambé.
Then the boys throw rocks into the lake, which they decorated in various colors. The one in the photo is blue, which is the favorite color of Jack, Owen, and mine.
---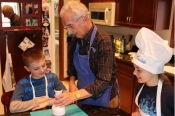 Visit the "Campbell's Cooking Class" page to read more about this topic.
---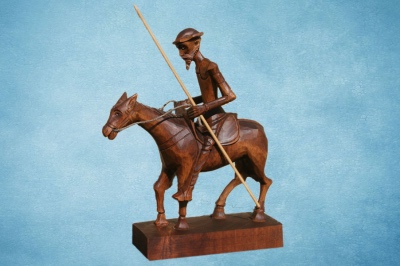 Visit the "Don Quixote" page to read more about this topic.
---

Visit The Mentors and Me page to read more about this topic.
06/13/18
Follow @mountain_and_me