Donald Get a Purple Heart
The Advantage of Trump's Windbag
One of the problems with the Donald is that he is a windbag. However, as nauseating as it is to listen to him speak, there is a great advantage to his political off-the cuff nonsense. If you listen to him go on for a couple minutes, it is apparent how out of touch he is in the real world. Case in point. After the Donald dissed the father of Capt. Humayun Khan for his speech at the Democratic Convention, the Donald tried to right his sinking ship with Americans.
Enter a former Purple Heart recipient, Louis Dorfman, who gave the Donald his Purple Heart, which he received while fighting in Iraq. The Donald wanted to know whether it was a real Purple Heart and not just a copy of one to which Dorfman said, "That's my real Purple Heart. I have such confidence in you." Then the Donald said, "And I said, 'Man, that's like big stuff. I always wanted to get the Purple Heart. This was much easier."
"This was much easier" than going to Vietnam and being wounded, which is the only legitimate means by which the Donald could get a Purple Heart. Of course, the Donald avoided the draft five times due to having a bone spur in one or both of his heels. Therefore, receiving a Purple Heart by another recipient who didn't avoid the draft was much easier than risking his own life.
Retired Gen. Barry McCaffrey said regarding Purple Hearts, "Look, a Purple Heart isn't like an Emmy or Oscar, for God's sakes. ... There's just been a series of babbles out of Mr. Trump that tells me he has no conception about the armed forces or what it means to serve. That certainly includes the notion of sacrifice."
Trump University should have given the Donald a Purple Heart for shooting himself in the foot at least once or twice a week for the past year and a half. America is proud of you.
---
This is a video of the Donald getting his Purple Heart.
---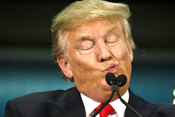 Visit the Donald the Dumb page to read more about this topic.
09/28/16
Follow @mountain_and_me