Ginger's Bed
Fit for a Queen
A couple months ago, I got Ginger from Melissa, who is a breeder in Home, PA. Having had an Irish Setter at the beginning of my work life, I wanted another Irish Setter in my semiretirement part of my life. Therefore, I made sure that Ginger had all the necessary accoutrements for an eight-week-old puppy. She has two divans for reclining during the day. She has a spacious crate, which is large enough for Ginger and me at the same time.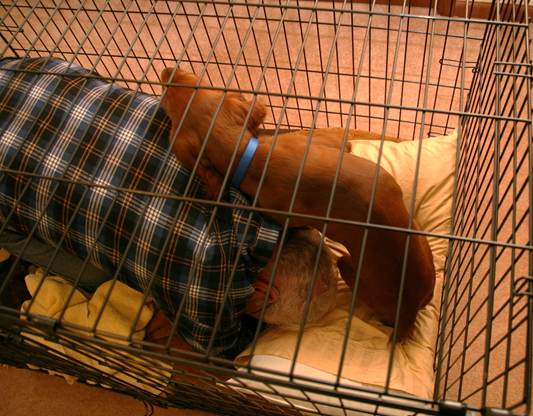 While Ginger's crate is large, mediocrity is not the operative word when it comes to this puppy. The crate has a quite lovely cushion liner for making a comfortable time of sleeping. Ginger never asked for more. However, I added some additional towels to make it a posher place to sleep. Again, she never mentioned even desiring those additional accoutrements of several towels.
Nonetheless, while reorganizing my home, I found some bedding that I didn't need, which consisted of a couple of pillows and a large comforter. I measured the comforter, measured her crate, and determined how many canine comforters that my old comforter would make. I could have two comforters for Ginger's crate and three smaller ones for her large carrier. I took the dimension of what I needed to a seamstress friend of mine, Shelly, and had her convert the large comforter into five smaller canine comforters.
Finally, after all my planning and transforming the old comforter into five canine comforters, the day arrived for the great unveiling of Ginger's new luxurious boudoir. However, I couldn't tell whether I had truly impressed her with her new bed or whether she was just excited to wrestle with me.
I told Ginger of my excitement putting together her luxurious sleeping accommodations and hoped that she would enjoy it. Ginger said, "Hey, this is really nice, but you shouldn't have spent so much time, money, and effort. When you are working at your computer, I sit at your feet on a plastic mat. I just love being with you."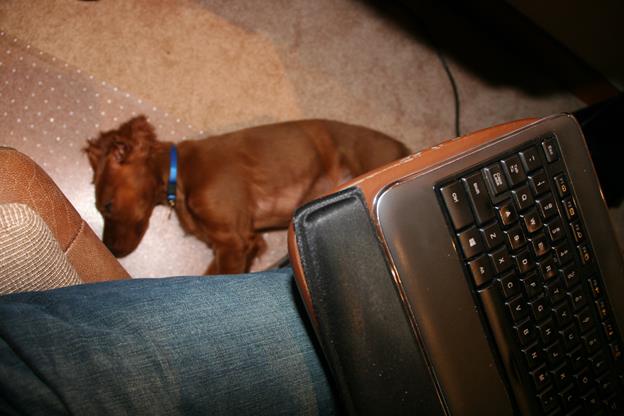 I told Ginger that I like her resting at my feet, but, to get her beauty rest, she needed far more than what she had. We talked for another fifteen minutes before her bedtime. Then I took her out to go potty and returned to her new digs.
I told her that I redesigned her boudoir, because I loved her. I added a remnant of a carpet, which I placed on the tray along with several towels. In addition, I have a cinnamon colored cushioned liner for even more comfort. Finally, the pièce de résistance was a blue comforter and yellow pillow. I also provided several of her bones in case she wanted to enjoy a late-night snack. Then I kissed her goodnight and wished her pleasant dreams.
I turned out the light in her room and went to bed myself. It was nearly midnight. However, 6:15am arrived for me all too soon. I went downstairs to see how Ginger fared in her new boudoir. What a mess. There wasn't anything that wasn't rearranged during the night.
I said Ginger that I thought she liked her newly designed bedding and pillow combination for her crate. Ginger responded, "I just reorganized the comforter and the rest of the bedding. You did a nice job making my bed, but this is more to my liking."
My retort was then why not come upstairs to my bedroom where Ginger uses her large carrier when she is too tired to go downstairs to catch a few zzzz's during the day. We raced each other upstairs to my bedroom, and she looked into her carrier but seemed unresponsive to her other boudoir.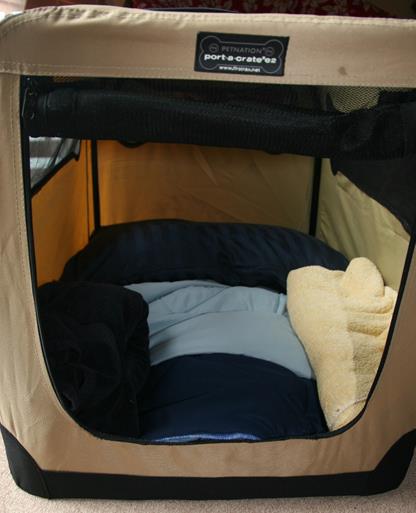 I just stood there attempting to process her rejection of my loving efforts to assure a happy and long life, which included comfortable sleeping arrangements. Ginger, sensing my hurt, came up and licked my hand. To console me, she said, "Hey, you feed me, let me out to potty, play with me, and give me treats like lamb and pig ears to munch on. Just let me rearrange my two-boudoir based upon Irish Setters' standards. But, I appreciate your efforts."
---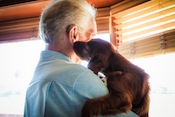 Visit the Thus Spoke Ginger page to read more about this topic.
03/22/17
Follow @mountain_and_me