IN QUEST OF THE LOCH NESS MONSTER...
Is It Real?
Being Scottish, which means being frugal, I don't do anything without a reason or purpose especially when it comes to money. Hence, I can explain why I spent a lot of money that could have been better spent on paying bills or just saving the money for a rainy day. I recently went to Scotland for a month...but with several very important reasons. I wanted to return to Scotland where I had gone to school for a year of post-graduate work at the University of Edinburgh 45-years ago. My wife, Ann, had never been to Scotland from where some of her family like mine had come. Also, I wanted to research and interview people about the independence referendum that will occur on September 18, 2014. Scotland will be voting to become an independent nation in less than a year and a half.
However, while those reasons are certainly valid, I also wanted to resolve the issue of the Loch Ness Monster. Nearly 50-years ago, I had spent some time looking for the Loch Ness Monster myself. I was unsuccessful, but I was determined not to fail this time.
Let's address the history of the Loch Ness Monster. The first recorded report of a Loch Ness Monster was by a 7th century biographer named Adomnán. In his book, St. Columba, he recounted the story of how St. Columba was walking with his friend, Luigne moccu Min near the River Ness when they found some locals burying someone who had been killed by some monster in the river, which is a tributary of the loch. Troubled by this harbinger of doom and death, Columba told Luigne moccu Min to swim across the river. It wasn't long before the monster reappeared swimming toward Columba's friend. When Columba saw the danger, he made the sign of the cross and shouted to the pursuer: "Go no further. Do not touch the man. Go back at once," and the monster obeyed.
Now, there are a lot of scholars that diss this account because many in that time had claimed seeing some sort of monsters in different places. Adomnán's account paralleled many of the other stories. Nevertheless, there haven't been any sightings for much of a millennia and a half since Columba told the monster to cease and desist.
It wasn't until the 20th century when George Spicers along with his wife saw and photographed the Loch Ness Monster on July 22, 1933. Spicers estimated the body to be about 4-feet high, 25-feet long with a neck about 10-feet high.
The following month, Arthur Grant reported that he almost ran over a similar creature while on his motorcycle. Then on November 12, 1933, Hugh Gray took some blurry pictures stating that he also had seen some monster. Finally, in 1934, the first photo clearly thought to be the Loch Ness Monster was taken by a medical doctor by the name of Dr. Robert Wilson. He didn't want for some reason to have his name tied to the photo so the photo was dubbed the Surgeon's Photograph. It wasn't until 1975 that it was found to be a fake and that apparently was Dr. Wilson's reason not to have his name connected with the picture.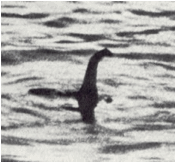 Nevertheless, there seems to be sightings or investigations of the Loch Ness Monster on a yearly basis. My problem is that I haven't seen it...either in the loch or the river that feeds into the loch. In addition, I have spent time on two different occasions looking for the monster. I would estimate that I spent a total of about two hours investigating the monster's whereabouts. One would think that I would have seen some signs of a nautical monster during those two hours.
Now, I am not the only dedicated theorist out there. There have been many people who have speculated on possible explanations for the sightings. They range from animals like seals, eels or birds to seismic gas. The seismic gas got many looking into that theory in particular. There is a fault line that runs along the entire loch. Any plate tectonic movement of the earth's crust will cause underground gases to escape causing a bubbling in the water. Often this escape of gases is much larger than what is seen in places like Yellowstone. While Yellowstone isn't on a lake, it regularly emits gases. Imagine what it would look like if a lake was situated above Old Faithful.
This theory is reinforced by what the first person to sight a Loch Ness Monster...St. Columba. He said in Latin, "...cum ingenti fremitu." Now, I only had two years of Latin in high school, but a loose translation of that would be something to the effect of "with very loud roaring." Columba might have seen at a distance the water spurting out of the lake and the sound of the roaring. He could have put 2 + 2 together and bingo...he saw the Loch Ness Monster.
Had someone told him that he was mistaken and what he saw and heard was a seismic gas emission due to the fault line running directly under the loch, do any of you think that he would have bought that theory? Now, I ask you.
When I was first at Loch Ness years ago, the prevailing theory was that it was a plesiosaur. Plesiosaurs were salt water reptiles that became extinct some 65-million years ago. At that time, it was theorized that the lochs in Scotland were saltwater and open to the sea. Overtime and due to various geological changes to the earth's surface that some of the lochs were closed off from the sea. This would have taken a number of millions of years to occur. The theory was that some plesiosaurs evolve and acclimated to water that slowly over time became freshwater. Hence, some bought into the theory that plesiosaurs had evolved into living in a freshwater loch.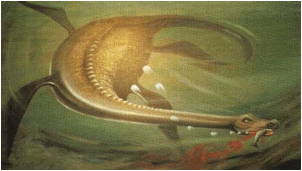 There is still another theory that the Loch Ness Monster is not an amphibian. This theory was based upon something that a Scot hypothesized in an interview on CBS News. That theory was later written about in National Geographic. This theory claims that traveling circuses have used the road that runs parallel to the loch. They theorize that either the elephants were cooling off and washing in the loch resulting in what looked like some sort of monster from a distance. Or perhaps an elephant escaped by merely swimming away to the freedom of the loch.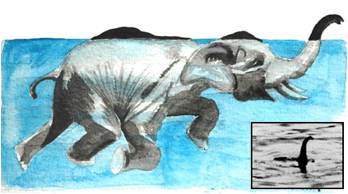 While this theory might be true, I do have some question about the next theory presented by others but including an elephant. This theory uses the runaway elephant theory, but suggests that the elephant is playing a prank on the Loch Ness Monster watchers. My reservation regarding this elephant hypothesis is that it doesn't delineate the actual type or species of elephant. I can tell you that while the Asian elephant might have innate sense of humor to play a prank on people, I know for a fact that the African elephant is a less humorous Loxodonta Africana than the Elephas maximus. Besides, how could an Asian elephant get to Scotland in the first place?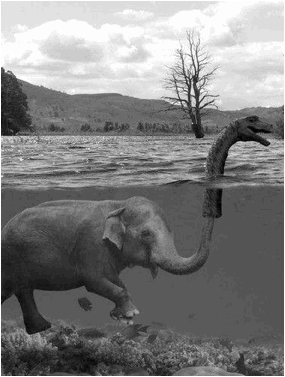 After all the research plus the couple hours at Loch Ness over the years, I finally concluded that there is indeed a Loch Ness Monster even though I have not personally witnesses the phenomenon...a phenomenon that over 10,000 different witnesses have seen starting with Columba down to the present day. While delving into countless journals and researching most of the 15,500,000 sites on the Internet, I happened to come across this photo taken by some Englishman. It should be noted that he isn't for the independence or devolution vote in 2014 in Scotland. This Englishman is against devolution even though Northern Ireland and Wales have similar devolution wishes, although they don't want to succeed completely from the UK as Scotland does.
This Englishman, who is dead set against Scotland ruining the UK by leaving it in less than 500-days, claimed that he took this picture and wrote on it what he heard one of the monsters saying to the other. Now, I doubt that the Loch Ness monsters speak English...Gaelic possibly but not the Queen's English. I believe that this photo is something that the Royal Lake District Tourism Board created to increase tourism south of Hadrian's Wall...aka England.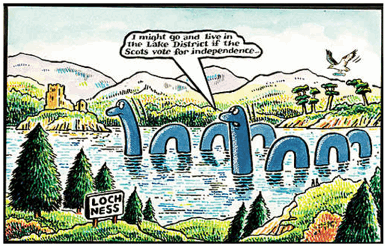 I also know that I will be invited back to Scotland to help the Scottish National Party (SNP) and Scotland celebrate their creation of an independent nation after the September 18, 2014 "Aye" vote. King Arthur told me not to return until Scotland is free. While I'll celebrate with the Scots in Edinburgh, let me assure you that I will return to Loch Ness for the third time and also anticipate seeing firsthand the Loch Ness Monster...aka Nessie.
While I wait, you might want to watch Dr. Spock...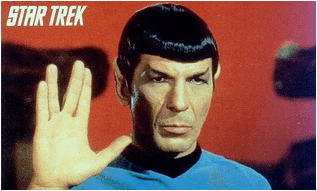 aka Leonard Nimoy's TV program, In Search Of....
---

Visit the Scottish Independence page to read more about this topic.