FOLLOWING IN THE FLIPPERS
OF JACQUE COUSTEAU
In preparation for my writing and research trip to French Polynesia, I decided that snorkeling would add an additional aspect to the adventure. After picking out the right equipment, I realized that if I was going to snorkel, why not go all the way and scuba dive to the great depths of the ocean's floor? Besides, one of my idols was Jacques Cousteau. What would he say if he knew that I was going merely snorkeling where he scuba dove? Cousteau would be proud of me, since I upgraded my undersea technique with the aqua-lung, which he and Emile Gagnan invented scuba diving. They perfected the underwater breathing process sixty-years ago. It was in 1943-the year of my birth, that divers became free for the first time in human history to explore the world's oceans without the cumbersome diving suit and copper helmet. It seemed predestined to me to celebrate this sixtieth anniversary of aquatic freedom by following in the flippers of Jacque Cousteau.
Having several months to get my scuba certification, I spent a month gingerly laying the needed groundwork to get my wife on board this scuba diving idea. We had made a deal that, if she humored me by going on my lifelong trek to Tibet, she wanted a sun and sand trip as her quid pro quo for enduring the rigors of the trip to South Asia. A year after returning to the States, she still is grateful for toilets, upon which to sit and paved roads over which to drive-she is heavy into creator comforts. Now I was moving the goal posts for the South Pacific junket and needed to make this transition smooth. I was keen on getting her on board (and over board), because I needed her as the trip's photographer. She would digitally document my explorations of the sunken ships, buried treasures, and the flora and fauna of the ocean's depths. I could hardly write about fending off killer sharks without the pictures to go along with the text. (I guess the possibility of missing body parts could attest to it, but nice pictures would be less painful.) Had it not been for Cousteau's cameraperson, his fame and fortune would have been quite limited. It took me awhile to convince her that she could get an even nicer tan twenty leagues under the sea than what she would get on the beaches of Tahiti, Bora Bora, and Moorea.
Swallowing her concerns like a mouthful of salty seawater, off we went to become certified and to be like Jacque. The process involves classroom work and work in the water, but first we had to master the manual. The manual nearly aborted my dream to swim in the wake of Cousteau. The study-guide illustrated the problem of not equalizing the pressure in your lungs with a picture of a balloon exploding into tiny pieces when equalization doesn't take place. Well, did I have to paddle fast and hard across the incoming rip tide of her fear and anxiety? "I don't want my lungs to explode!" I quickly reminded her that the most important rule of scuba diving is never to hold one's breath.
Then we were off to our first class and confined water dive. As we drove to class, my wife seemed tense about my adventure. I told her that we are following in the flippers of Jacque Cousteau. Her muttered retort was part of the marriage vows-the one that goes "for better or worse!?!" She seemed to inflect "worse" more than necessary.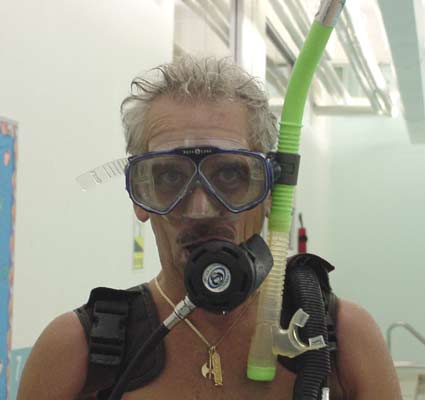 The course work and test went fine; we both passed with flying (or perhaps diving) colors. The next step was to step into the pool for our contained water dive. What a hoot and blast. There are a lot of things that have to be remembered, but if one wants to be like Jacque, you just do it as the saying goes. Since we are novices, we rented our equipment. As you can tell, it wasn't color-coordinated, which accounts for my dorky look with the chartreuse snorkel. These pictures would have been a great deal more interesting had the equipment been all blue and yellow to match my swimsuit. The other thing was that I haven't been able to find a red wool cap like Cousteau wore. I spent awhile on E-Bay but couldn't find anything. I quit the search, because I had to start my reading assignment for next week and prepare for my second dive in my attempt to be what Cousteau called a "manfish."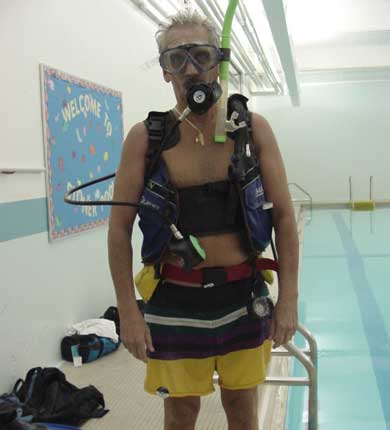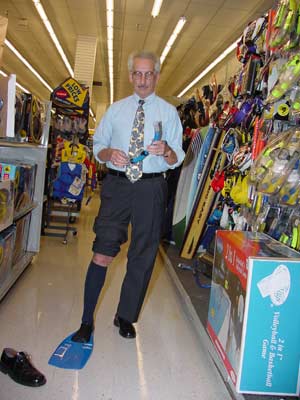 The before and uncoordinated look as opposed to the after and color-coordinated look. To fully understand the importance of proper color-coordination, check out the following article: Snorkeling in the South Pacific.