Marc Chagall
And His Three Clones
I have written many essays about my love for the arts. I was a teaching assistant in the art department at Muskingum College while still getting my bachelor's degree. Over the past two decades, I have taught art history at three different universities. In fact, of all the humanity classes that I have taught, art history is my favorite.
Additionally, I have written about Jack, my grandson, asking me what I was doing on a laptop while babysitting him. That was when he was 3 years old. He is now almost six and can name dozens of paintings and their artists. Owen, who is almost four, has followed in this older brother's footsteps beginning that learning process.
The first painting that Jack truly loved was Marc Chagall's I and the Village. Interestingly while I was in college, I had a poster of I and the Village in my dorm room.
Chagall lived an extremely long and productive life living for 97 years. He was born in Liozna, which is a small village neighboring Vitebsk in Belarus, Russia. Chagall was born on July 7, 1887 and died at Saint-Paul-de-Vence, France.
I do not know a rival of Chagall when it comes to the diversity of his artistic expressions. He painted, did stained glass, ceramics, tapestries, and lithographs. One of his great stained glass windows is at the Art Institute in Chicago, which I have seen every time that I have gone to the Art Institute. It is magnificent. It is hard to explain the intensity of his blues; it literally creates a breathtaking blue aura. Interestingly, Pablo Picasso said of Chagall, "When Matisse dies, Chagall will be the only painter left who understands what color really is." Picasso was correct.
Interestingly, Ferris Bueller's Day Off has a famous love scene in front of Chagall's America Windows.
Jack has also seen pictures of Chagall's stained glass window at the Art Institute. That photo of Chagall's stained glass caused him to draw this picture last year.
Chagall has always fascinated me. Aside from his talent, he lived in Russia prior to the Bolshevik Revolution. At that time, Jews lived in a large area of western Russia called the Pale of Settlement. Essentially, this territory consisted of Latvia, Lithuania, Ukraine, Belarus, and Poland. In addition, Jews didn't go to Russian schools. The Russians segregated Jews from the rest of the population in a large territorial ghetto.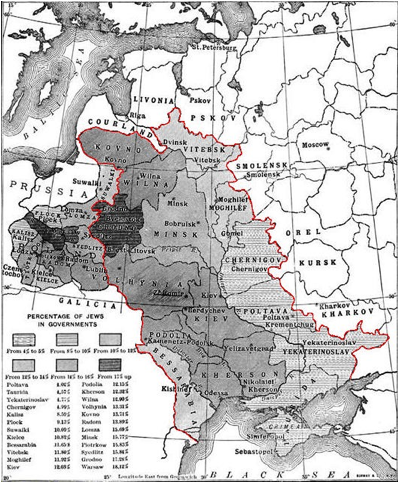 Chagall's mother wanted him to attend a Russian school. However, he could not attend since he was Jewish. Therefore, Chagall's mother bribed the headmaster so as to allow Chagall to attend the Russian school in Vitebsk. While attending the school, Chagall took a great interest in painting and asked a classmate how to learn to draw. The classmate said, "Go and find a book in the library, idiot, choose any picture you like, and just copy it." Interestingly, someone asked Somerset Maugham how to become a great writer, to which Maugham replied to copy a book by that person's favorite writer.
By 1906, Chagall was beginning to master painting. After obtaining a passport to travel outside the Pale of Settlement, he went to St. Petersburg. St. Petersburg was the artistic center for painters in Russia. This was especially true of the Impressionists and Post-Impressionists. In the early 20s, he went to Paris to avoid the famine in Russia due to WWI. During WWII, he left France for the US to avoid the Nazis putting him in a concentration camp. The mix of Chagall's talent, with suffering due to racism, created a most remarkable artist.
While interviewing Dr. Shari LeMonnier, who is in charge of the Chagall lithograph display at Westminster Presbyterian, I was amazed at her depth of knowledge regarding Marc Chagall. I thought that Jack and I knew a great deal about Chagall.
Beyond Shari's knowledge base, she too is an artist. I mentioned earlier in this essay that no one rivaled Chagall's ability in the various art forms of expression. Nonetheless, I contend that Shari is a clone of Chagall when it comes to painting. It is equally amazing the parallels between these two clones.
For example, when Chagall told his mother that he wanted to be a painter, his mother dissed that notion as something that wasn't practical. He needed to get a real job. If he wanted to paint, he could do his painting when he wasn't working and making a living.
Shari told her father, who was a physician, that she was thinking about two different careers, either a genetic engineer or a painter. His response was essentially identical to Chagall's mother. He said to that one could be a career and the other a hobby. Shari chose art like Chagall, which was counter to what her father thought.
Chagall travelled outside the Pale of Settlement first to St. Petersburg, then to Paris, and then all over the world. After a degree at SMU, Shari went to the Art Institute and got her masters. At graduation, she was awarded a fellowship to travel around the world, which she did for a half dozen years. That had a profound effect upon her as it did with Chagall.
Both Chagall and Shari base most of their work on religious motifs.
A Chagall example
Shari and some of her work
This is Shari's place of creativity.
Finally, Chagall's other clone is Jack. Interestingly, Jack was born on the same day as Chagall was...only 123 years later. As I mentioned, I and the Village was the first painting to which Jack was thoroughly intrigued. Chagall and I are proud of him. Interestingly, Jack learned how to be a great preschool artist by copying great artists like Chagall.
Jack is copying van Gogh's Bedroom in Arles.
Jack also copied a picture of Chewbacca from the Internet. Again, like Chagall, Jack has diversified his artist expression to decorating birthday cakes.
Owen is the youngest of three clones. Nonetheless, he is busy working on reproducing a Chagall painting of a unicorn.
When I took this photo, Owen said, "Papa, I'm busy doing my version of Chagall's unicorn."
Then Owen adds, "I'm too busy to talk. Go take a picture of something Jack is creating." So I did.
Talk about history repeating itself. I have discovered three clones of Chagall.
---
This is of video from the Art Institute in Chicago.
---
05/04/16
Follow @mountain_and_me