Oatmeal Raisin Cookies
Its History and Etymology
There is more to baking cookies than merely tasting them. When you bake cookies, the novice cookie-baker needs to understand not only how to make the cookie but needs to know the etymology behind the actual cookie. When Jack and Owen made Snickerdoodles recently, we discussed the derivation of the term, Snickerdoodles. As a master chef, I side with the group of other master chefs that believe that someone just made-up the name. They merely liked the cute sounding sound of constants and vowels...a kind of onomatopoeia issue. Others still maintain that it comes from the German word, Schneckennudel, which means snail noodles. Ask Jack and Owen whether the Snickerdoodles we baked looked like snail noodles.
As we were making the Snickerdoodles, I told Jack and Owen that Ayanna, my first grandchild who is nearly 20-years old, makes these cookies for me all the time. However, as much as Snickerdoodles come in a close second to oatmeal raisin cookies, oatmeal raisins still are my favorite going back seven decades.
Therefore, we would make oatmeal raisin cookies that day. They were excited and wanted two things from their Papa Master Cookie Chef. They wanted to know how to make them and the etymology of the name of the cookie.
Owen begins the mixing....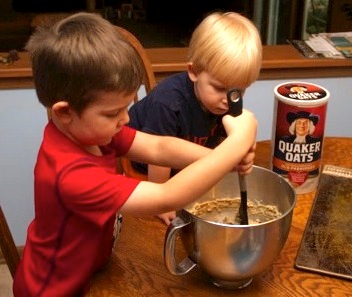 Jack completes the mixing.
Jack then he realizes that the dough needs more raisins,
while Owen finds a raisin on the tabletop.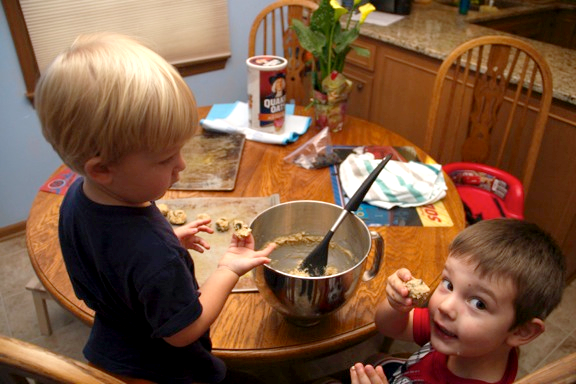 Jack wanted to verify the correct size of the cookie.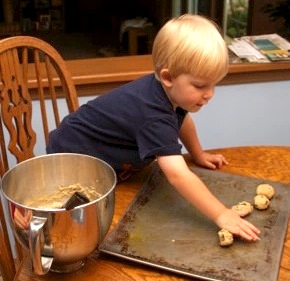 Owen adjusted the size of his cookie.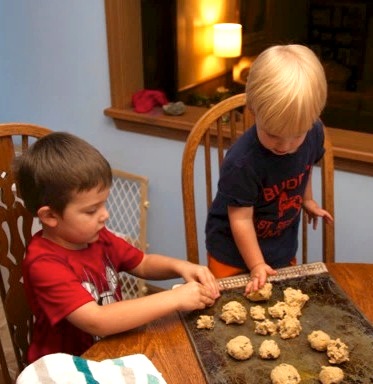 They begin the process of putting the cookies on the cookie sheet.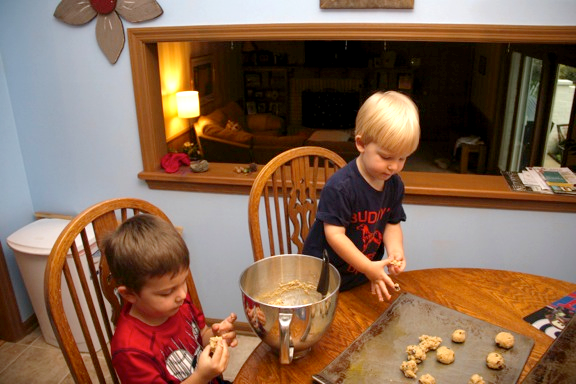 As Jack and Owen mastered the culinary part of making oatmeal cookies, we devolved into the history and etymology of this cookie. Interestingly, it goes back to Scotland. Owen mastered cookie making and avoiding sticky fingers. However, his primary interest is forming complete sentences with a mouthful of a cookie.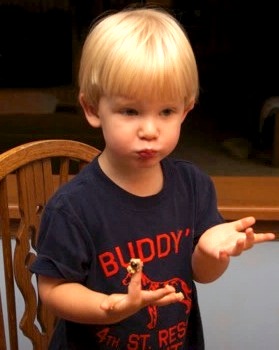 Now what should I do with my sticky fingers?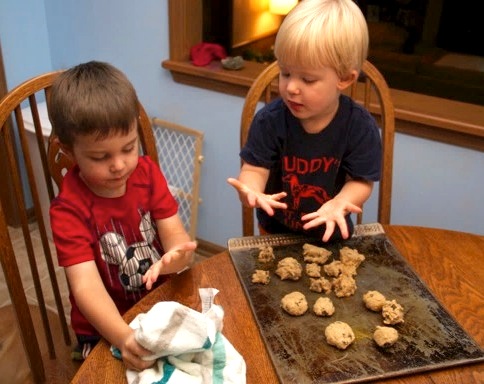 Jack shows his brother.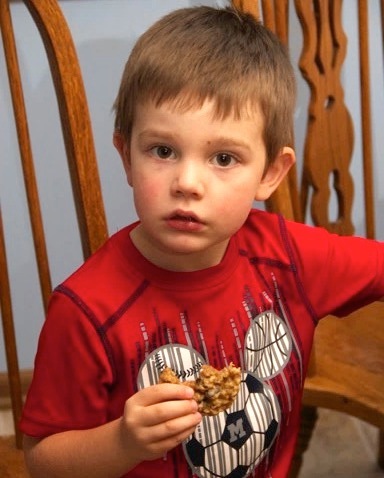 Jack wants to hear all the details regarding the history
of oatmeal in general and the cookie in particular.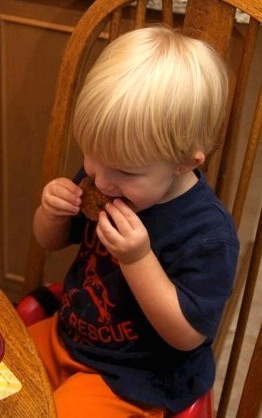 However, Owen said that he is listening while eating....
Nevertheless, Jack has two years on Owen and can explain things that he understands. If you ask him about the history of the oatmeal raisin cookie, he will explain it to you. Owen would merely eat one of them as he mulled over how to express the history of the cookie as a two-year old.
What follows is a drastically truncated history lesson of what I gave the boys a couple weeks ago. It begins back to the time of the Roman Empire's conquest of England two millennia ago. The Romans had captured Britain by 122 AD and constructed Hadrian's Wall and in 142 AD built Antonine Wall north of Hadrian's Wall. However, the Romans never were able to conqueror the Scots and essentially fell back to Hadrian's Wall. They designed Hadrian's Wall as a mean to wall off what they considered the barbaric Scots from Britain. Back then, the Scots were free of England.
During that timeframe, the Scottish Highlanders carried oatmeal with them in little pouches for food when battling the Romans or each other. Samuel Johnson wrote regarding oats, "Oats, a grain which in England is generally given to horses, but in Scotland supports the people." It was the English attempt to diss the Scots, which they have done from the time of the Romans to the present day. Nonetheless, Johnson looks like he has eaten too much of the finer things of the English cuisine. Interestingly, Johnson did suffer many medical problems including gout, which got the name the rich man's disease.
Nonetheless, the Scots had a reply to that English putdown, "England is noted for the excellence of her horses; Scotland for the excellence of her men." Jack looked at me and asked, "Are the Scots excellent?" I replied that they are excellent in mind and body in part due to oatmeal. All sorts of Scottish foods use oatmeal from haggis to oatmeal porridge/hot cereal. We finished cooking, had a warm oatmeal raisin cookie, and went out to play for a couple hours.
After exploring the outdoors and wrestling with the boys, we went out for lunch at The Original Pancake House. I asked Jack what he wanted for lunch thinking that he would have pancakes, which he loves...especially when he makes them himself. His response was, "Do they have oatmeal cereal?" I kid you not. That is precisely what he asked and was delighted when they brought him a huge bowl of hot oatmeal cereal.
---
If you wish to be strong both mentally and physically, bake oatmeal raisin cookies and try oatmeal cereal at The Original Pancake House.
Also, do not forget April 30, which is National Oatmeal Cookie Day.
Here is the oatmeal raisin recipe.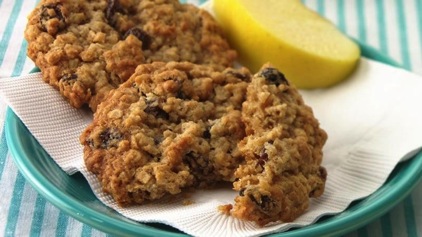 Prep Time 30 min
Total Time 40 min
Servings 36
2/3 cup granulated sugar
2/3 cup packed brown sugar
1/2 cup butter or margarine, softened
1/2 cup shortening
1 teaspoon baking soda
1 teaspoon ground cinnamon
1 teaspoon vanilla
1/2 teaspoon baking powder
1/2 teaspoon salt
2 eggs
3 cups quick-cooking or old-fashioned oats
1 cup all-purpose flour
1 cup raisins


Directions
Heat oven to 375°F. In large bowl, beat all ingredients except oats, flour and raisins with electric mixer on medium speed, or mix with spoon. Stir in oats, flour and raisins.
On ungreased cookie sheet, drop dough by rounded tablespoonfuls about 2 inches apart.
Bake 9 to 11 minutes or until light brown. Immediately remove from cookie sheet to cooling rack.
---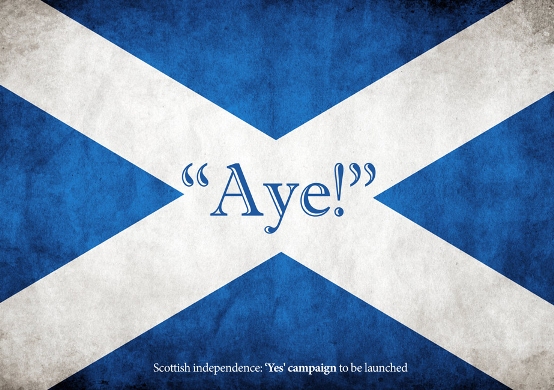 Visit the Scottish Independence page to read more about this topic.
---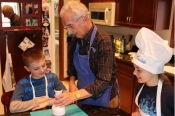 Visit the "Campbell's Cooking Class" page to read more about this topic.
10/13/14
Follow @mountain_and_me