PROTEST MOVEMENTS IN MYANMAR AND THE US...
We Shall Overcome!
I spent the 60s in college, graduate, and post-graduate school. It was an amazing time to be alive as an American. A century after the beginning of the Civil War, my generation had to address the issue of segregation. The North had won the war but had lost the peace. On paper, blacks were no longer slaves, but they were segregated. It was an American version of South African apartheid.
The civil rights movement was in full swing by 1960. We went on marches and protests rallies. There were work camps and debates. Back then, we knew that we would overcome racism. We knew at that time in the early 60s that we would address racism and make the necessary changes especially with new federal laws stopping overt racism. We lived our lives in the 60s with the song, We Shall Overcome. However, the emphasis was on our overcoming. We would overcome overt racism not at some distant time in the future but in the next five or ten years. We knew that in a very finite amount of time, we could change America. Ask anyone within the civil rights movement about our self-assuredness.
We shall overcome,
We shall overcome,
We shall overcome, some day.

Oh, deep in my heart,
I do believe
We shall overcome, some day.

We'll walk hand in hand,
We'll walk hand in hand,
We'll walk hand in hand, some day.
Oh, deep in my heart,

We shall live in peace,
We shall live in peace,
We shall live in peace, some day.

Oh, deep in my heart,

We shall all be free,
We shall all be free,
We shall all be free, some day.

Oh, deep in my heart,

We are not afraid,
We are not afraid,
We are not afraid, TODAY

Oh, deep in my heart,

We shall overcome,
We shall overcome,
We shall overcome, some day.

Oh, deep in my heart,
I do believe
We shall overcome, some day.
The civil right movement worked at two levels: the individual and the governmental level. At the individual level, it might take longer to get racists to see the light. However, we would get the federal government to pass the Civil Rights Act and the Voting Rights Act by the mid-60s. If many individuals were still into a segregation mindset, so be it. We would change our society from the top down...it was a fait accompli.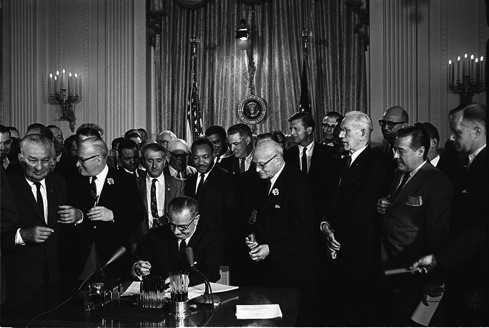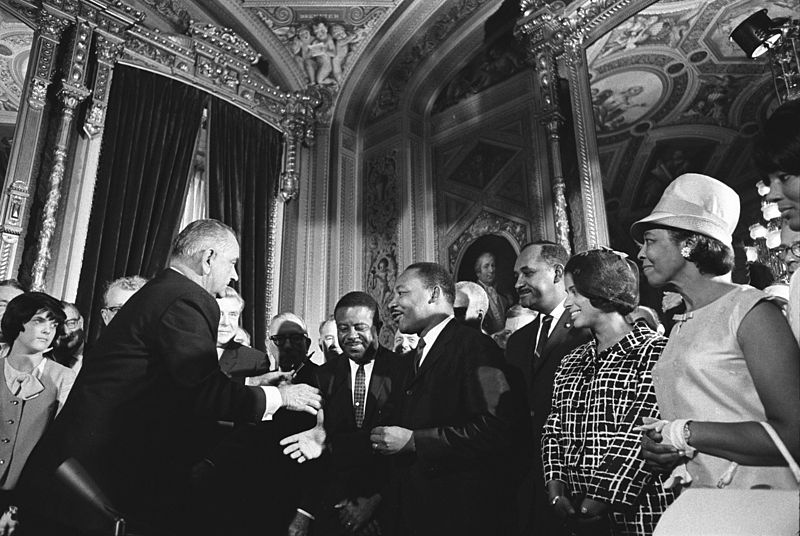 The 20th century civil rights movement began with Rosa Parks being arrested for not giving a white male her seat on a Montgomery city bus in 1955. Nonetheless, even with that first national protest moment, the major civil rights legislation was passed within a decade of her arrest. Our overcoming racism was not some distant time in the future.
Even though there were killings, fire bombings, and physical abuse, we knew it was a done deal about getting laws passed and positively changing the unfortunate norm of segregation and racism. Having said that, even as a white liberal, I knew something of the cost to each of us whether black or white. In the early 60s, I was driving the back roads of Tennessee late at night with several high school volunteers from Bower Hill Community Church, which was a Presbyterian Church in Pittsburgh, PA.
We had gone there for a work-camp and to gain a better understanding of the effects of segregation in the Mid-South. I was driving the students back to where our work group was living, which was at the Presbyterian Church at Ozone, TN. The problem was that I had rented a station wagon in Pittsburgh with a Pennsylvania license plate before driving to Tennessee. For about a half hour of driving up and down the hilly back roads back to Ozone, another car followed me. The car had many opportunities to pass me but just followed behind me.
There I was watching the road ahead of me and watching the car behind me. This was done while attempting to figure out how I would protect the students and myself if that car was driven by some KKK members. Nothing happened, and we got to the church where we were staying without a problem. Nonetheless, that was the Sitz im Leben (German for the situation of the people) of the times especially in the South.
I recently returned from a 4-week study-trip to Myanmar/Burma. I wanted to see firsthand how that society and government was functioning as they attempt to move away from a military dictatorship to a civilian government. Months before leaving the States, I tried to contact Aung San Suu Kyi to request an interview but was not able. Fortunately, prior to leaving the States, I was able to arrange an interview with Min Ko Naing, who is the most important protest leader behind Aung San Suu Kyi.
Min Ko Naing and I met a couple of days after I arrived at Yangon/Rangoon. At the end of the trip, he invited me to their Independence Day luncheon. The country was celebrating the 65th anniversary of the end of British colonial rule, which had lasted nearly a century.
There were a number of 88 Generation Students Group at the luncheon, which included Min Ko Naing. He had spent 15-years in various prisons in Myanmar since the 8888 Protest, which was held on 8/8/88...hence the name, the 8888 Protest. He had spent 15 of the past 25-years in prison. Talk about guts and determination.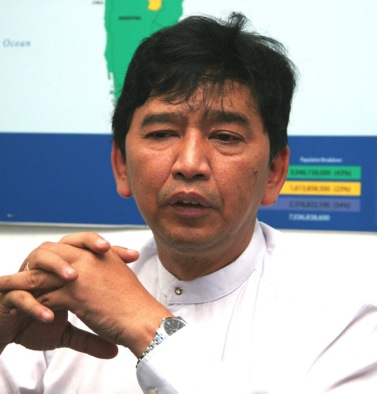 Min Ko Naing is not actually his birth name, which is Paw Oo Tun. However, back in his college days, he adopted a new name, Min Ko Naing, which means conqueror of kings. I told him that I admired his level of dedication especially in light of all his suffering while in prison as he worked to conquer kings.
I stopped and thought for a moment about all those years in prison since the 8888 Protest. I realized that he had spent more time incarcerated than the total time that I spent in college, graduate, and post-graduate studies, and during that time, he faced beatings, torture, and a myriad of other problems due to his captivity.
Many people from Myanmar also suffered years of imprisonment and many died while in prison. The political activist in Myanmar are fighting for freedom and human rights like many others who have lived under dictators or in military police states. Steve Biko in South Africa said, "It is better to die for a cause that will live than to live for a cause that will die." Those living in Myanmar from the days of General Aung San to the present must be admired for their belief and dedication to resolving issues in their homeland.
Interviewing Min Ko Naing and talking with many of the 88 Generation Students Group was a privilege few Americans have had the good fortune to experience. It is like living in America during the American Revolution and talking with those involved in the revolution like Thomas Paine, George Washington, Nathan Hall, Ethan Allen, Ben Franklin, and Thomas Jefferson. Sitting down with Min Ko Naing and those of the 88 Generation Students Group will remain a cherished moment for me.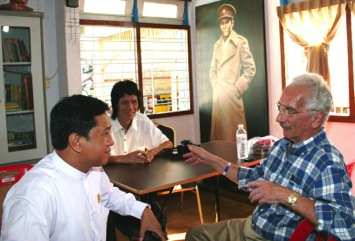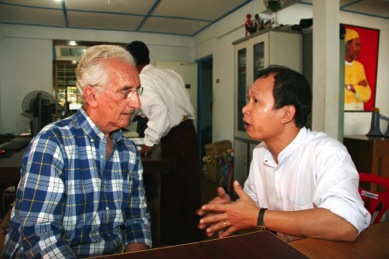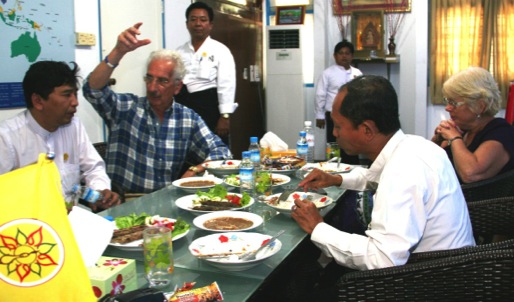 Amidst the privilege of talking with these leaders and seeing parallels with the causes that I dealt with in the 60s, I had many questions about how they planned to accomplish the task of bring democracy to Myanmar. One of the similarities with which I saw between the civil rights movement in the 60s and the 88 Generation Students Group is the enlistment of the college generation. Min Ko Naing and the vast majority of the 88 Generation of Students were college age students during the 8888 Uprising when thousands were killed by the military. Min Ko Naing was 25-years old at the time.
They have college and university students working at the headquarters of the 88 Generation Students Group organizing various projects, planning tactics, and making banners and posters. As I stood there watching, my mind rushed back and remembered over a half century ago doing the same thing as a student. I was a strange but an exhilarating feeling of floating back to the past while observing the present.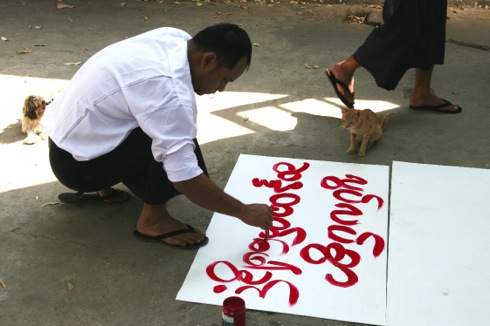 Some of the 88 Generation Students Group introduced me to some of the present day student leaders. I shook their hands and said some words of encouragement. Being that I was the only gray-haired person that was there, it was like some old aging warhorse patting them on their backs and encouraging them. I remembered meeting those types of people decades ago when I was a student. I remembered that I felt honored that some old guy was there encouraging us in our efforts.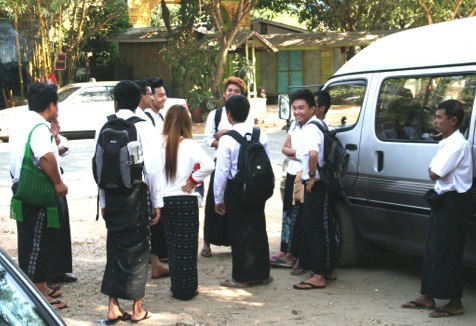 In a very real sense, my memories of the past morphed with the immediacy of that day. It was déjà vu all over again. Emotionally, I was in the loop regarding changing the society, but I did not know a detailed game plan to reach their goal of democracy and human rights for Myanmar. They seem to be in a catch-22.
For example, Myanmar has many different ethnic groups. Each of these groups have lists of goals that they want to attain. While they surely want human rights, these ethnic groups certainly have other issues and may not even agree on how the country can get to the common goal of removing the military and moving into a pure democracy. Min Ko Naing and the 88 Generation Students will have to continue to work for a cohesiveness among all the ethnic groups as they push for a common goal of human rights and democracy.
In addition to their intricate dance between the various ethnic groups, they have a far more intricate dance dealing with the military. Too much dissonance from within the various ethnic groups will result in less power to take on the military. Nevertheless, if there is too much solidarity, the military could crackdown on the leadership of the groups by killing or imprisoning them.
I came out of the 60s, and we knew that even loud and massive protests could not deter the civil rights movement. However, I do not know enough about the Myanmar society to be able to calculate the protest level that the military would accept. That is why I see this as a catch-22 situation for Min Ko Naing and the 88 Generation Students. The military has instilled fear within them to watch their steps as they journey into a very uncharted future.
How Min Ko Naing and those within the 88 Generation Students extricate themselves from being caught in the horns of a dilemma is the issue. They need to find an Aristotelian via media between doing what is needed but not too much.
Nonetheless, I have a couple of suggestions as an outsider who truly loves Myanmar and her people. I would have someone translate the lyrics of We Shall Overcome into Burmese. An entire generation of students in America lived with that song deep within their hearts and always on our lips. Trust me.
We Shall Overcome helped us to move mountains of racism from neighborhoods, cities, and states of our country. As I write this essay and unless you lived in the 60s in America, you cannot imagine how listening again to Joan Baez brings back that feeling...that we would overcome. Trust me.
One other suggestion and promise. I would suggest to Min Ko Naing and the 88 Generation Students to invite Joan Baez to go to Myanmar. I promise that I will do what I can to get her address and send her a link to this essay. When I get an address, I will forward it to Min Ko Naing. She is almost exactly 2-year older than I am. If you ask her, she will come.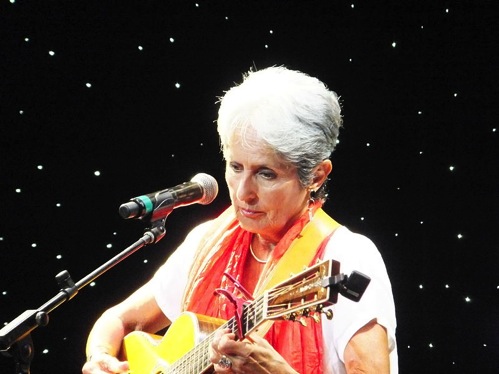 My final promise is that I will return with her. Can you imagine what Sule Pagoda will be like with Joan Baez singing We Shall Overcome in English to hundreds of thousands of people from Aung San Suu Kyi, to Min Ko Naing, and to every person able to attend that protest rally? That would be a moving experience. Trust me.
Then imagine what it would be like to have a half million people singing,

, (thoe thway aung ya mie) which is the Burmese translation of We Shall Overcome.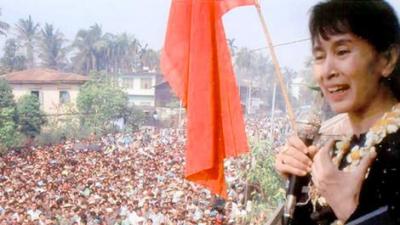 ---
PS Less anyone thinks that I know how to write in the Burmese language, I emailed Tin Htun to ask him for the translation of title of the song, We Shall Overcome, in Burmese.
---

Visit the Burma Independence page to read more about this topic.
---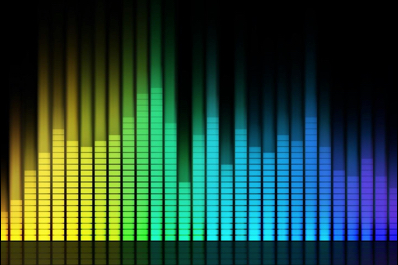 Visit the Music I Love and Why page to read more about this topic.
---

Visit The Mentors and Me page to read more about this topic.
01/30/14
Follow @mountain_and_me