This Little Piggy Had Roast Beef...
And Ginger Devoured the Little Piggy's Ear
Ginger has it good in life. She is fed well, she goes for long walks with me, she has a boneyard of deer, cows, and pigs. Here are some of them.
When I am teaching or writing, I don't want to be disturbed by Ginger. Therefore, I get from my pantry where I have some sort of bone whether it is an actual bone or an ear or a piece of rawhide. That simple gesture allows me to concentrate while she munches on the treat.
A couple of days ago, I went to my storeroom of bones and told Ginger that I needed to do some work. I pulled out one of her favorites, a pig ear. I gave it to Ginger, and she sat on her divan in my office ready to begin the munching process.
Quietness prevailed for over two hours as Ginger crunched on her pig ear.
Two hours of Ginger's enjoying some pigs ear allowed me some time to play with her and more important to talk with her. I got down next to her divan, and she paused from devouring the pig ear. I made some passing comment about her tasty treat, which started Ginger off on discussing the nursery rhyme, This Little Piggy.
You know the nursery rhyme about This Little Piggy
This little piggy went to market,
This little piggy stayed home,
This little piggy had roast beef
This little piggy had none,
And this little piggy cried wee wee wee all the way home.
That children's rhyme goes back nearly 300-years. It was first published in 1728. Interestingly, the words have remained pretty much the same as when it was written. However, do you know why it was written?"
I demurred from answering; I had no idea.
So, Ginger then said, "You should know; you are into teaching. It was an infant's early learning experience. The mother or father would teach the infant about counting by using each toe as if it were a little piggy. When the rhyme got to the little toe, the parent would tickle the infant's foot as the parent would say, 'And this little piggy cried wee wee wee all the way home.' Go to the Internet and look up this rhyme."
I did as Ginger suggested and found this painting.
Ginger asked, "Isn't that kind of cute that parents were beginning the learning process quite early."
Then Ginger said, "Look at this next drawing. You can see one piggy eating roast beef and the other piggy outside had none."
Then Ginger added, "You spend a lot of time teaching. I think that you give me various treats to teach me that we will play after I munch on some item from your pantry. Am I correct?"
I laughed and said, "Let's go for a long walk."
---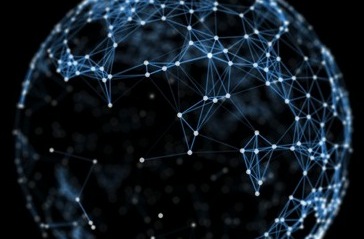 Visit the Connecting the Dots page to read more about this topic.
---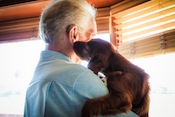 Visit the Thus Spoke Ginger page to read more about this topic.
04/10/17
Follow @mountain_and_me