A Ngal Lay
My Great-Granddaughter
In the past half-century, I have done post-graduate studies and taught overseas. I have traveled on my own on various overseas trips, been a tour guide, and had tour guides.
In the past eight years, I have been in Myanmar three times, each time for about a month. I have probably had a dozen tour guides. For the most part, they have been excellent. However, there are three that have had a profound effect on me. Moh Moh was my tour guide on my first trip to Myanmar and was my guide in the Inle Lake area.
I love Inle Lake. Just type Inle Lake on the Search link in the toolbar. It is truly amazing. Nevertheless, I discovered my family when I met Moh Moh's oldest daughter, Ti Ti, who was nine years old at the time. After playing Scrabble with Ti Ti, she was the link that connected our two families.
I returned several years later. When I returned to Inle Lake, Ko Ko, the husband of Moh Moh and father of Ti Ti, was my guide. Ko Ko paralleled Moh Moh's effect upon me. During that visit to Myanmar, Than was my guide in the area of Mandalay. Than and I had a great time together. He knew the important places to show tourists.
Additionally, Than is an artist. While I can't paint, I have taught art history at the college level for years. Before leaving Mandalay, Than took me to his studio. Actually, his studio took over much of his home. He can paint landscapes, portraits, and still lifes equally well. Usually, great artists will gravitate to one of the three types. Not Than. In previous articles, I have mentioned that Than is like van Gogh.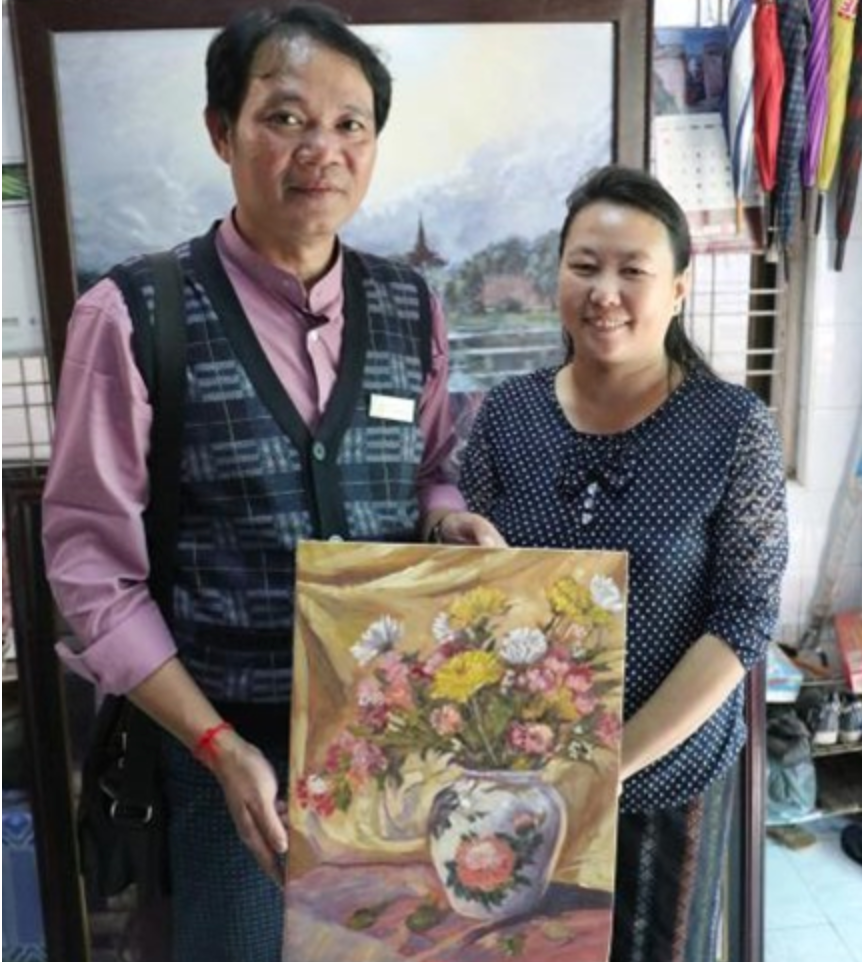 While Than isn't a post-impressionist like van Gogh, he shares the ability to paint landscapes, portraits, and still lifes like van Gogh. Than has painted two portraits and four charcoal portraits. I also have two landscapes on the U Bein Bridge.
Than attached his completed painting of A Ngal Lay and wanted to know if I needed him to change anything. That is like van Gogh asking a buyer whether he needed to touch up some part of the masterpiece. To be funny, I replied that I thought that I had brown hair and not white hair.
Than responded to my hair comment by talking about his hair. He mentioned that he hasn't cut his hair since the first wave of COVID-19 in March 2020. In fact, he won't cut his hair until COVID-19 is gone and along with the military coup that ended democracy in Myanmar.
When I commissioned Than to do the painting for A Ngal Lay. I asked him to take several photos of the entire process from start to finish. This is his explanation, followed by the painting, and it developed.
1. I made a quick sketch with the pencil on paper to the facial part and tonality to be familiar.
2. This step, I draw the likenes of the portrait with Acrylic on Canvas then block in the tone simultaneously.
3. Block in with oil color on the whole canvas.
4.Gradully build up flesh tone, action of the face, garments, background and so on,,,.
5. Here I used the background color cool gray purple and grey warm pink.
Means cool loving kindness and warm love to this kid @ A Ngal Lay. 
6. Final step or Restating step is very important. John Howard Saden famous American portrait painter said to check every details of facial likeness, skin tone and tonal so on….
I think from this painting we all can be seen tender, loving, kindness and happiness between Grandpa and Child.
I' m happy with it. Thank you very much again PaPa Al for let me paint this picture.
Hope you enjoy it.
Your Sincerely
Than @Wai Le Linn
No.582 San Yeik Nyein 4th Street
46 Quarter, North Dagon
Yangon, Myanmar.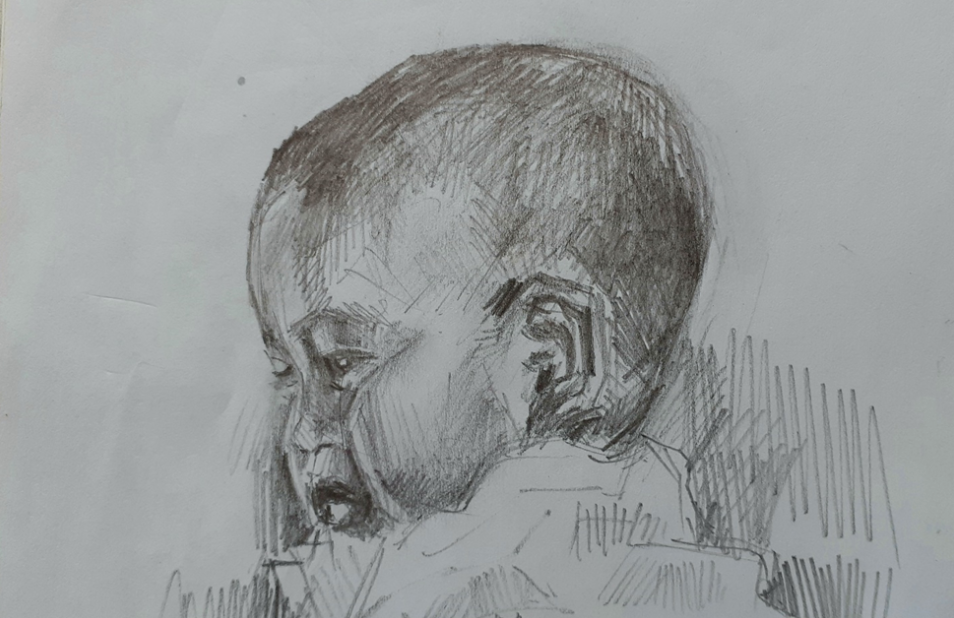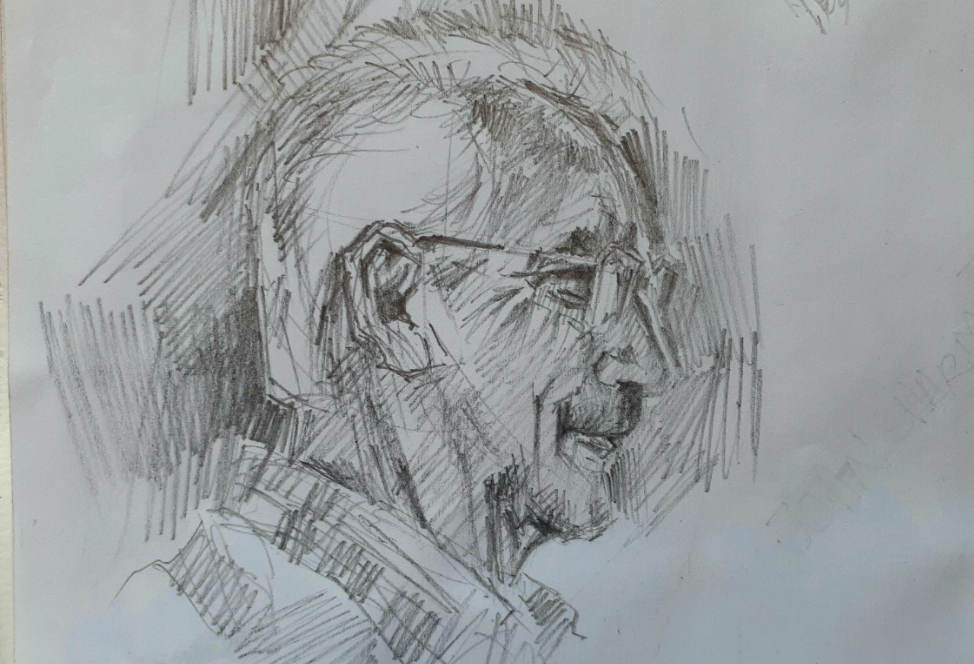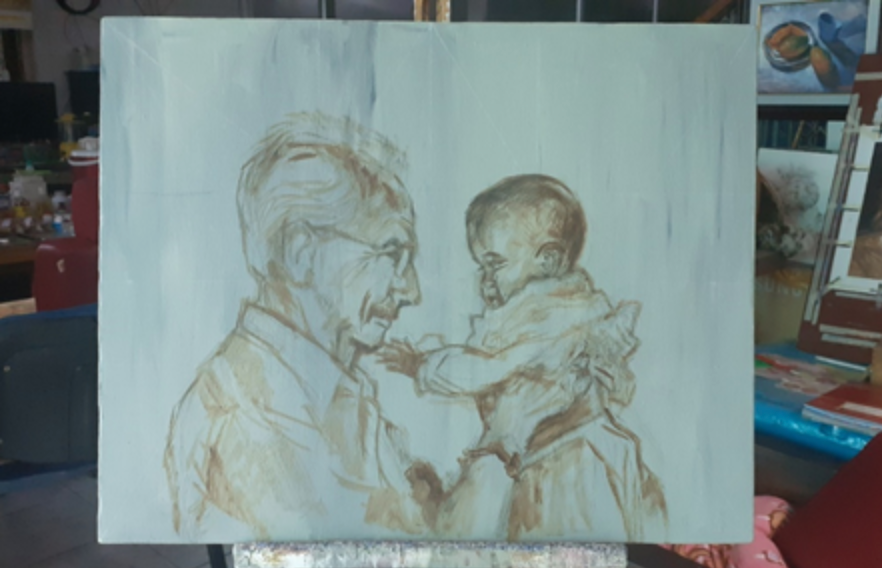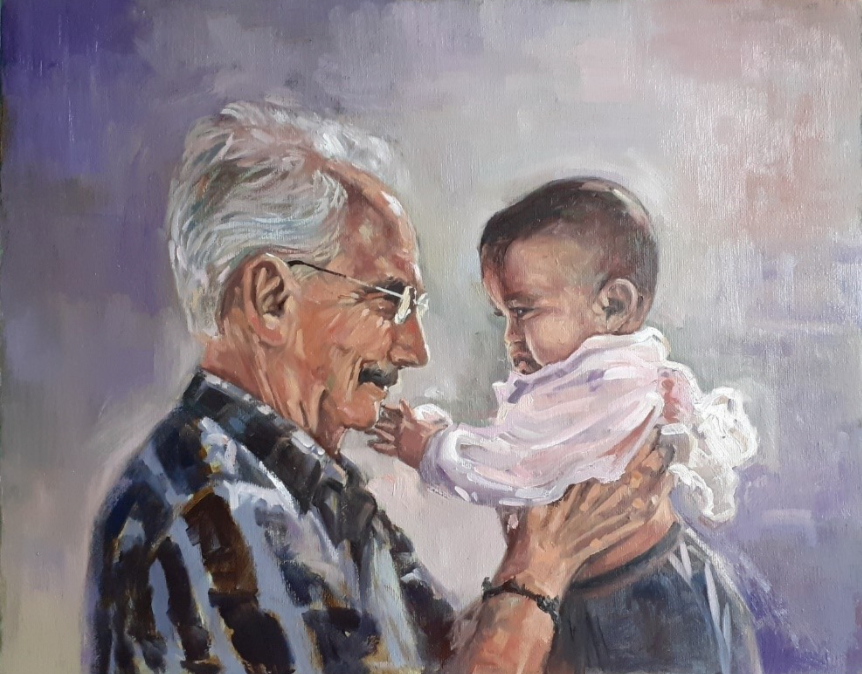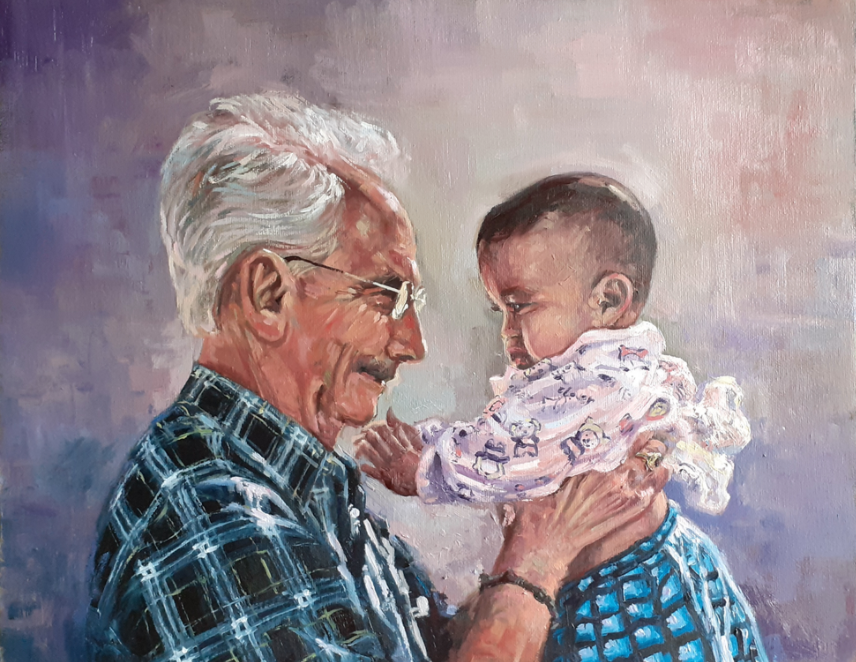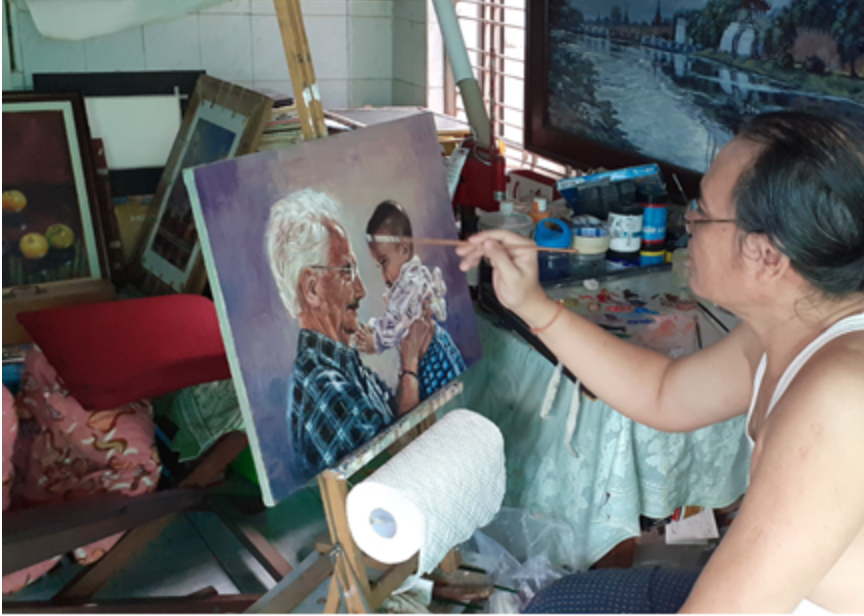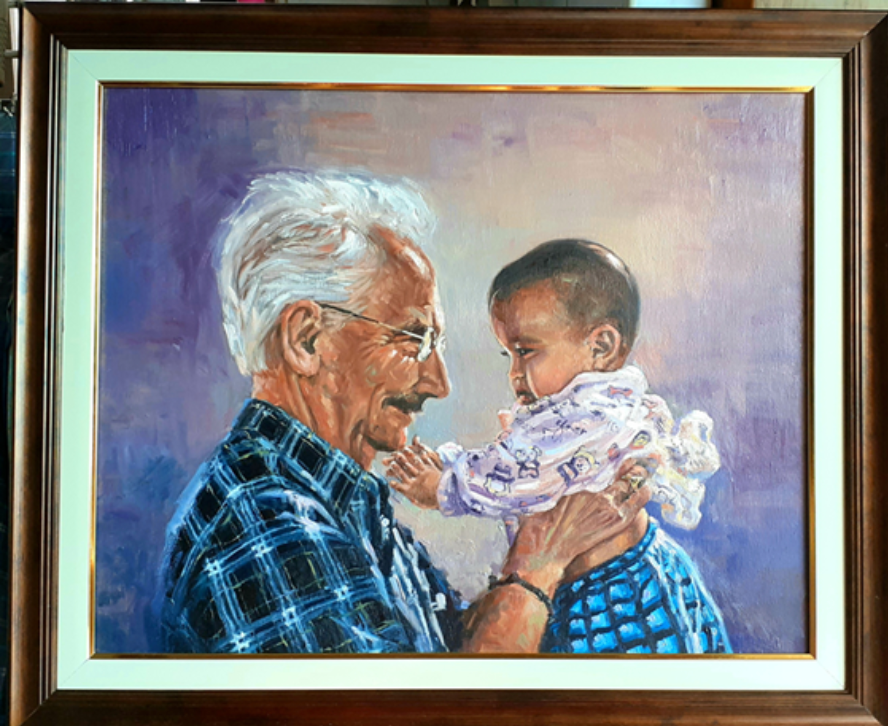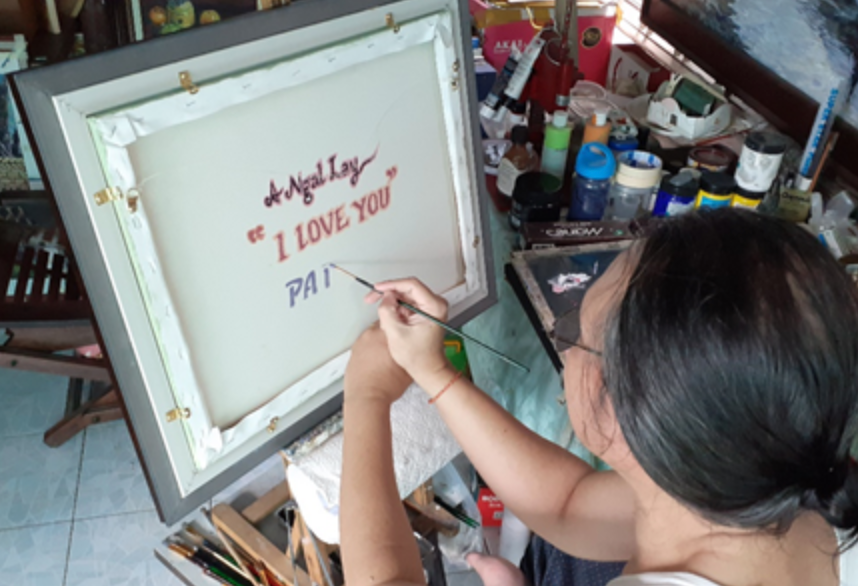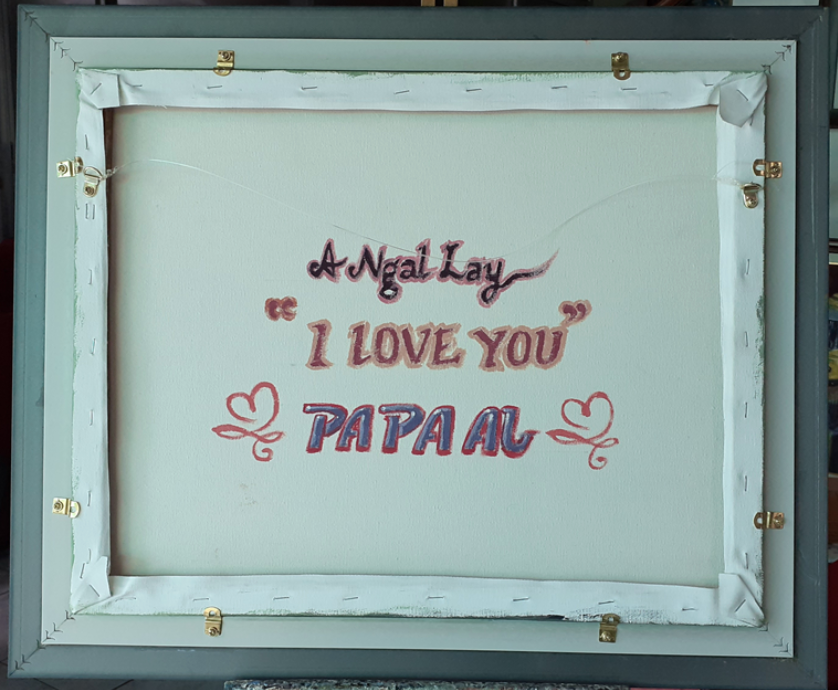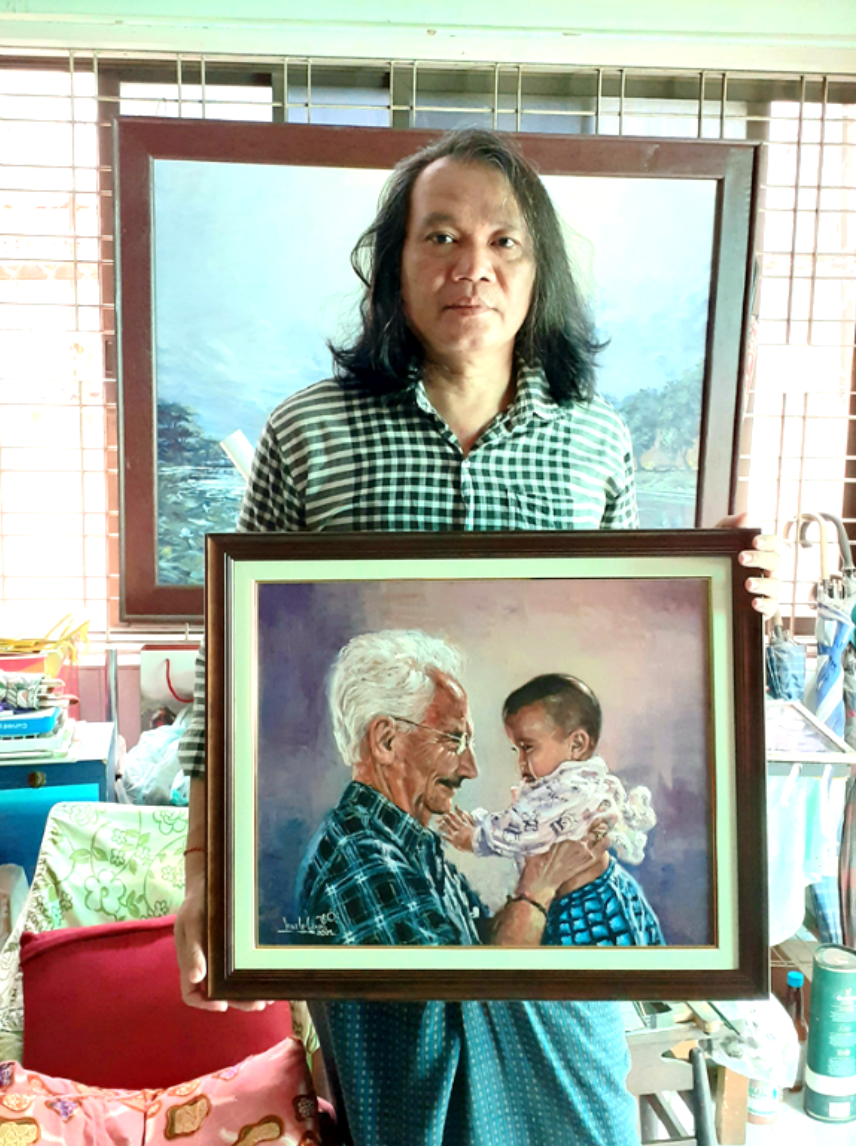 So, Than did an excellent job painting A Ngal Lay and me from this photo on my desk. I am haunted by being remembered by the little one. My mind drifts back to Gilgamesh's conclusion about life, "Forget death and seek life."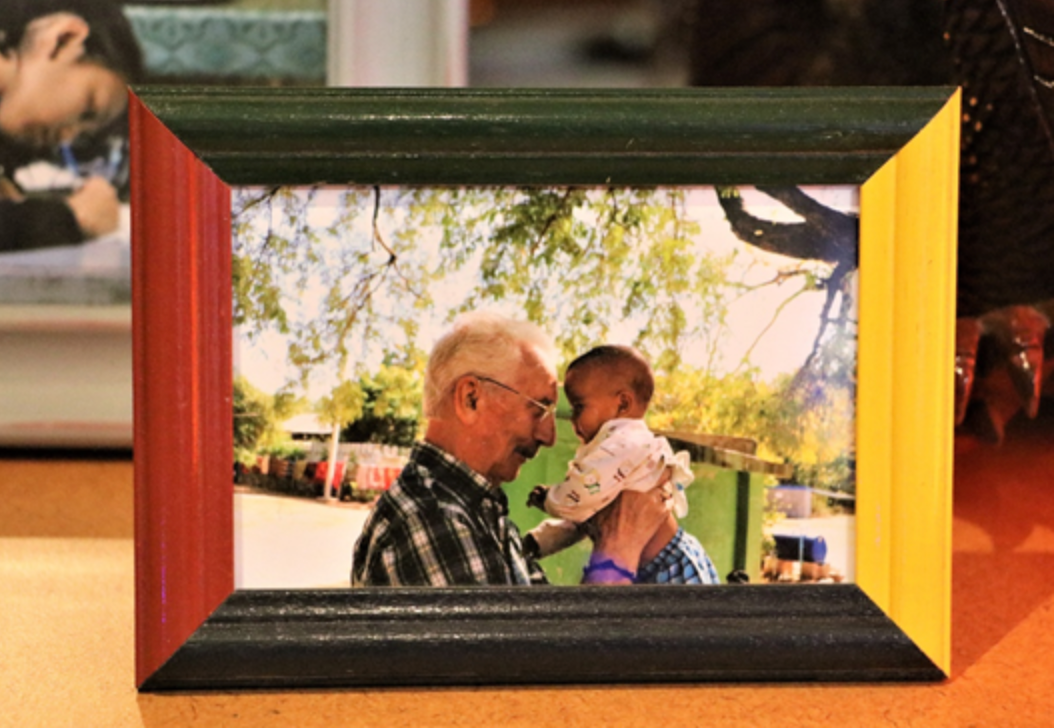 I'm not in a quest to find immortality. I get that I seek life. However, I do want to be remembered. I'm 78. My family in Myanmar remember me, but A Ngal Lay was too young to recall our moment in time.
Myanmar is without vaccines for COVID-19 and is facing a civil war. My three granddaughters have memories of our time together. We can Zoom, chat, and laugh. That is partial immortality.  However, when will I be able to return to Set Set Yo to see my great-granddaughter? I'm haunted by the expression on her face. She was attempting to process some old guy from America that saw value in her.
I hope that I will return soon to see my family and sit and chat with a young toddler. I want to create the beginnings of her remembering that we connected. In the meantime, A Ngal Lay's parents will have a painting….
Bobby Kennedy helped me on my yellow brick road of life. He said, "Every generation inherits a world it never made; and, as it does so, it automatically becomes the trustee of that world for those who come after. In due course, each generation makes its own accounting to its children."
Kennedy comment drives me. I want my three granddaughters and great-granddaughter to remember that I was fortunate to spend time with the four of them. I saw value and purpose in their lives.
Follow @mountain_and_me