The Value of Standing on Desks
Allows One to See the World Clearly
I am putting all my cards face up on the table or rather your computer screen. There are three things in life to which I am deeply invested: my family, my traveling, and my teaching. This essay is about teaching and my love for it.
Presently, I am applying to teach a couple more online college classes. However, this essay is probably not the best way to get my foot in the door of some college or university. Nonetheless, it is critical that my students of classes that are already set for next semester understand my love and style of teaching.
I have nearly 300-hours of classes in college, graduate school, and post-graduate school. Therefore, I have learned a great deal about various courses especially in the humanities, but I have learned a lot about teaching styles much of which were not good.
Drs. Elkins, Palmer, Ritschl, and Olmsted are several professors that had a profound positive effect upon me, along with Professor Keating. Each one of these professors taught me course matter, but, of equal importance, they taught me how to teach. I owe them all a great deal of thanks.
However, Keating taught me a very different teaching style. He told his students to listen to inanimate objects. I too teach on my website by using objects that are inorganic or insentient. Additionally, Keating taught while standing on desks within the classroom.
I stand upon my desk to remind myself that we must constantly look at things in a different way. You see, the world looks very different from up here. You don't believe me? Come see for yourself. Come on. Come on! Just when you think you know something, you have to look at it in another way. Even though it may seem silly or wrong, you must try!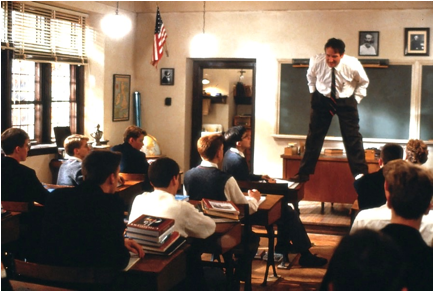 Then Keating added in case his students did not get his message...
Boys you must strive to find your own voice, because the longer you wait to begin the less likely you are to find it at all. Thoreau said, "Most men lead lives of quiet desperation." Don't be resigned to that; break out.
All good professors not only know their subject matter, but also know that students often find it hard to think outside the box. Keating does this thinking outside the box while standing on desks, which provides for him a different Weltanschauung (worldview).
I would much rather live in a world taught by the Professor Keatings of academia. Teaching for some involves far more than a paycheck. I know the feeling when my students truly experience learning. Talk about exhilaration.
---
This video is my YouTube explanation regarding why I am so driven about education.
For more information, go to What Makes Me Tick.
Finally, this YouTube is of the movie, Dead Poets Society.
---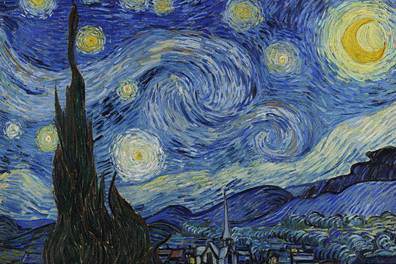 Visit the On Seeing the Light page to read more about this topic.
08/17/15
Follow @mountain_and_me