Bobby Kennedy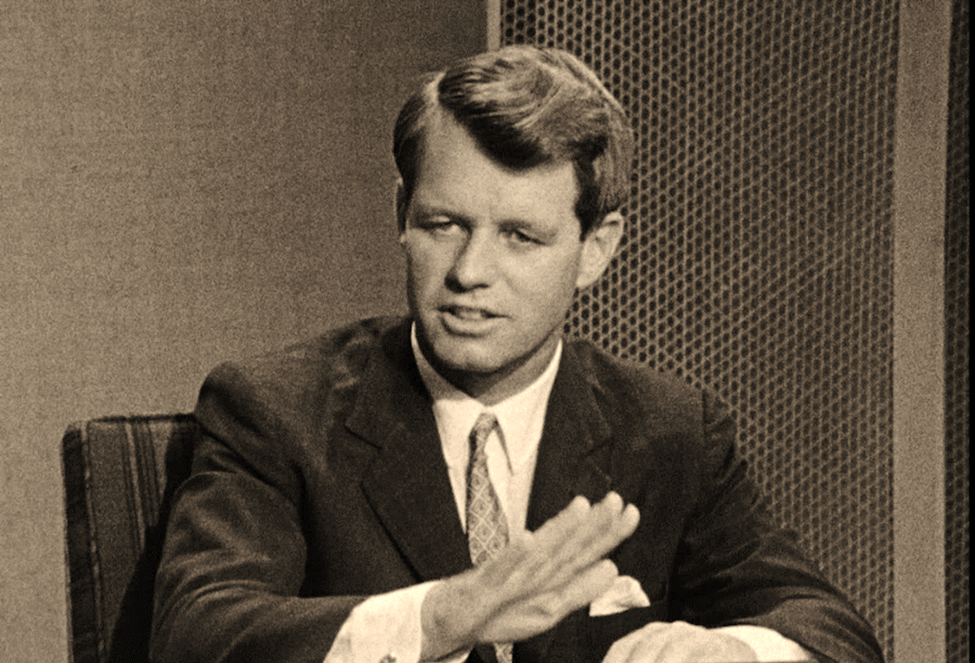 Bobby Kennedy spoke to millions both here in America and overseas about the need to improve the lives of the poor, the dispossessed, and those discriminated against. Back in the 60s, he was able to project a better time for millions both here and aboard. He and his brothers talked about Camelot, which was in juxtaposition to the real world for most of the people in the world. Camelot will remain an ethereal dream unless we work toward getting all of us closer to Camelot.
Those issues drove Bobby throughout his life, especially during the civil rights movement in the 60s. Randy Pausch in his Last Lecture, essentially said the same thing, "We cannot change the cards we are dealt, just how we play the hand." Instead of complaining about our cards, we all need to play what we possess in our endeavor to move toward Camelot for all people.
Having danced with death, I realize that I must leave this world better than I found it. I cannot afford to waste time and neither can you. We are all here for a finite period of time. Bobby's life was cut short, but his legacy lives on after him. Bobby said, "Every generation inherits a world it never made; and, as it does so, it automatically becomes the trustee of that world for those who come after. In due course, each generation makes its own accounting to its children."
We will all leave a legacy, which is how people will remember us. Choose wisely. Bobby taught us by his actions and words what his legacy was and calls all of us to leave a legacy of caring for those in need.
This video is of Bobby speaking to a large crowd of blacks in Indianapolis, IN. He announced to the crowd the death of Martin Luther King by an assassin.
Sadly, two months later, Bobby was assassinated. Despite the problems facing America in the 60s, Bobby spoke caring to a country, which all too often didn't care. That was a half century ago. Here we are again living in a country divided over the same issues of our past: racism, poverty, and indifference to the needs of the powerless. However, those in power in Washington are concerned about acquiring more power and more money. They are discriminating and attempting to build walls. We all need to learn from the past and move toward Camelot.
---
My World of Xanadu

Another Personal Parallel Essay

09/20/23
Holding Hands with Neal Katyal

What My Teacher Taught Me

08/21/23
Trying Times

Testing Souls

09/23/22
Picking Mentors

It Will Change Your Life

09/09/22
An Important Teaching Moment

Joe and I Are Twins

08/10/22
My Place in the Universe

I Don't Want to be Lost in Space

07/15/22
Our Reason for Being

Sweeping Down the Mightiest Walls

05/16/22
Grasping Reality

While My Clock Is Ticking

04/29/22
Diversity Visas

What's That All About, Alfie?

04/24/22
Building Castles in the Sky

Pushing the Limits of Possibility

04/13/22
My Family in Myanmar:

A Sequel to What's It All About

03/28/22
Ginger and I

What's It All About and Why?

03/21/22
If Everything Around You Seems Dark…

Look Again. You May Be the Light.

02/26/22
My Personality Quirks…

I Have Several

02/16/22
My Dream of Diversity

In the Footsteps of Bobby

02/02/22
Diversity Is the Answer

But What Is the Question?

01/31/22
When I Become a Billionaire…

A Jaguar SUV Will Be in My Garage

01/26/22
My Dreamland

During My Operation

01/19/22
A Reason for Being…

The Most Important Reason for My Being

12/31/21
Two Dreamers...

Discuss the Way the World Should Be

12/08/21
Archimedes and the Syracusia

It's All About Dreaming

12/01/21
A New Ripple

And a Purposeful Life

10/27/21
Having a Purposeful Life

Another Sequel About Dreaming

10/20/21
Societal Dreaming

Delayed but Not Dashed

10/18/21
Miss Independent

"Bo Bo Gyi's Granddaughter"

10/15/21
A Dream Delayed

"Or a Dream Dashed"

10/13/21
My Takeaway

"From the Great Chicago Fire"

10/08/21
Ti Ti and Education

"Why Is Education Critical?"

10/04/21
What's All This About Women?

"The Times They Are A-Changin' Ever So Slowly"

10/01/21
Once Upon a Midnight Dreary….

"Ride, Boldly Ride"

09/27/21
Happy Birthday, Snow

Time To Remember

07/21/21
A Ngal Lay

My Great-Granddaughter

07/14/21
If They See the Goblin…

They Might Also See Planet X.

06/23/21
Ti Ti is Sweet Seventeen

Happy Birthday

06/02/21
Three Take-Aways

From Denzel Washington's Commencement Address

05/03/21
| | | |
| --- | --- | --- |
| | Problems Offer a Choice Either a Cul-de-sac or a Challenge | 04/23/21 |
Learning from Collecting

Written by a Collector of Treasures

04/16/21
Teaching Moments Today

And Teaching Moments for the Future

03/15/21
Who Is That Lady in Yellow?

A 21st Century Eppie

02/01/21
Stopping in the Woods

While Dreaming Dreams

01/27/21
There are Facts…

And There are Fake Facts.

01/20/21
Purposeful Lives

On Steroids

01/13/21
A Secret About Life

How To Be Successful

12/21/20
Remembering the Past

Spring Follows Winter

12/02/20
The Importance of the Sound of Music…

According to Nietzsche and Me

10/26/20
This Is an Addendum

Ti Ti, the Bridge Builder

09/25/20
From Then to Now

What a Difference Seven Years Has Made

09/23/20
Masks Matter…

To Some

09/16/20
Two Poems

By Two Ladies

09/14/20
There Is More to Dreaming…

Than Just Dreaming

08/07/20
"Give Me a Place to Stand...

And I Will Move the World."

07/20/20
Regarding Dancing with Coronavirus

Campbell's Five Commandments

03/25/20
| | | |
| --- | --- | --- |
| | I Don't Like FailingModus Operandi | 03/13/20 |
My Swan Song

And My Family's Swan Song

01/17/20
Perspective

What You See Is What You Get.

09/20/19
Another Déjà Vu

In the Arts and Philosophy

06/07/19
Hanging My Problem on My Lantern

Contacting Clarence Page

04/12/19
Hanging My Problem on My Lantern

Contacting Rod Stewart

04/10/19
Dreaming….

About My Moment in Time

03/11/19
| | | |
| --- | --- | --- |
| | One Moment in Time Carpe Diem | 03/04/19 |
Tintern Abbey

Viewed by Wordsworth and Turner

02/18/19
Light at the End of the Tunnel

However, the Tunnel is an Illusion

02/06/19
The Wall Issue

The True Value of a Wall

01/14/19
Pa Pa Al's Grandfatherly Advice

To Ti Ti Who Doesn't Need It.

01/11/19
A New Year's Eve

With a New Resolution for the Coming Year

12/31/18
It's All About Family

I Agree with John Lewis

12/17/18
The Magnificent Seven…

My Dream Team

12/07/18
On Making Your Mark

And Leaving It

10/22/18
Rhythm of My Heart

Here and Abroad

10/03/18
Be a Dreamer....

And Never Quit Dreaming.

08/10/18
Dreaming

The Drug for Realizing Your Hopes

11/07/18
Lack of Leadership

In Turbulent Times

11/02/18
The Ripple Effect…

"…Can Sweep Down the Mightiest Walls."

07/23/18
Ti Ti and Her Family

My Assistants in Myanmar

05/28/18
Forrester and Jamal

You and I

05/11/18
Dear PaPa Al.....

Dear Ti Ti

04/16/18
Bobby's Suggestion About My Problems…

A School in Taunggyi, Myanmar

04/06/18
The Question Is…

How Will You Be Remembered?

02/26/18
What Would You Attempt To Do

If You Knew You Could Not Fail?

02/21/18
An Age of Revolution

If We But Know What To Do With It

02/16/18
The Water Horse of Loch Ness

And Our Water Horses of Life

02/07/18
Moh Moh, Tin Tin, and Me

We Are the Incarnations of Bobby

01/31/18
Lesson Learned About Dreaming

I Learned from Bobby

01/22/18
Bobby the Runt

Turned into Bobby the Leader

01/17/18
My Thoughts about the Meaning of Life

My Perspective from My Twilight Years

01/05/18
America

As Bobby, Moh Moh, and the Jazz Singer See It

12/25/17
Doing the Dance...

Fathoming the Unfathomable.

12/11/17
Lawrence of Arabia

One of My Mentors

10/06/17
Me and My Shrink

Dealing With What Drives Me

08/16/17
Ti Ti and I

A Most Haunting Relationship

08/04/17
The Benefit of Failed Dreams

The Dalai Lama's Oxymoron

06/19/17
Frobisher's Quests

The Northwest Passage and Gold

05/31/17
Shrimp Can Whistle

"I dream things that never were and say, why not."

03/08/17
Kennedy Socks

Presidents and Camelot

02/20/17
I'm Hanging My Lantern

For All To See

12/23/16
We Shall Overcome

A Belief Amid Darkness

07/18/16
I am Don Quixote

But I Am Not from La Mancha

04/15/16
Could I Have This Dance...

For the Rest of My Life?

03/11/16
The Value of Dreaming

About My List of Dulcineas

02/12/16
Do You Have Any Suggestions...

On Planning My New Life?

05/18/13
Bobby Kennedy

Still Reaches Out to Us.

07/29/16
Rewriting History

To Fit Our Notions

04/22/16
Bobby or the Donald

Picking Mentors

03/14/16
Two Roads in the Wood

Choose Wisely

02/26/16
Revitalizing My Brain

After Winding Up in ICU

01/25/16
Doubling Down...

To Make Dreams Come True

10/19/15
It Is About How You Lead Your Life

Start With Refining Words

05/11/15
Dare to Dream

Even When Dreams are Delayed

01/09/15
Last Night I Had the Strangest Dream

The Disconnect Between Dreaming and Reality

12/26/14
Serendipity...

Finding Without Looking

12/12/14
Wolverton Mountain

The Place Where Dreams Occur

09/26/14
Darkest Before Dawn

A Logical Disconnect that Is True

08/15/14
The Value of Dreaming

Instructions from My Cardiologist...

02/14/14
What Makes Me Tick

Finally, an Explanation

07/12/15
Lawrence of Arabia

A Mentor of Mine

10/18/13
Bonhoeffer—Crossing the Line...

Thank You: Dietrich, Bobby and Barack

11/20/12
Lean on Me

An Open Letter to My Grandson

11/11/11
Bobby and Barack

Election of Barack Obama

09/28/08