Ti Ti
During winter break from teaching in 2013, I went to Myanmar/Burma with the hope of connecting with Daw Aung San Suu Kyi, often called the Lady. I had wanted to interview her for years. Even though I didn't realize my long-held dream, the four weeks in Myanmar was the best trip overseas in my entire life.
While touring Inle Lake, Moh Moh, my tour guide, had to pick up some material at her home about where I would be going after leaving that part of Myanmar. Interestingly, Ti Ti, her nine-year-old daughter, was on vacation from school. When I walked into their living room, I has greeted with this question, "Hi. My name is Ti Ti. Do you want to play some games?"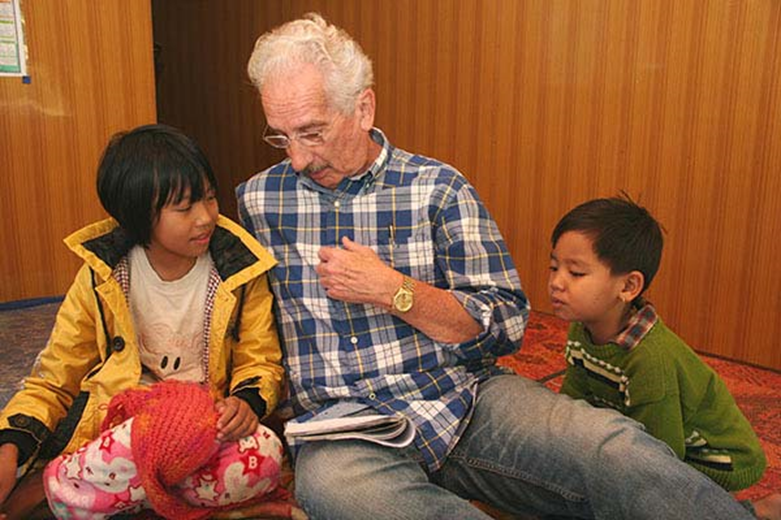 We are playing Scrabble.
I said that I went to Myanmar to see the Lady, but I discovered a young lady. When I left her home, I also found my granddaughter. That was in 2013. Since then, we have emailed each other many times. During that time, I again attempted to contact Aung San Suu Kyi. Despite not being able to communicate with her, I still returned to Myanmar to spend a week with Ti Ti and her family.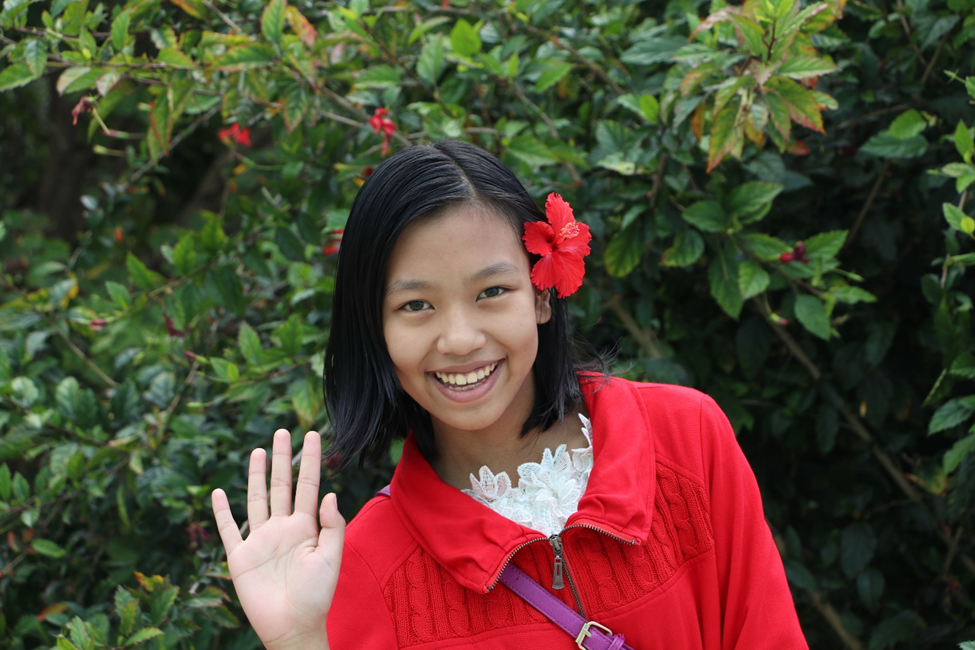 Ti Ti
In the four years between my visits, Ti Ti changed a great deal. She has a long list of things on her résumé. Beyond being brilliant, she is a magician, poet, a caring person, protective of her younger sisters, and always wants to help anyone. In addition, she is an extremely well-informed tour guide.
Therefore, I asked Ti Ti to help my readers to better understand the many tourist sites in Myanmar. This section of my webpage is devoted to informing you about Ti Ti's country.
---
College Days Part II

Onsite...Finally

05/26/23
Gosh Josh

You Are So into Your Masculinity

05/24/23
Heart of Royalty

An Either or Choice

05/10/23
A Golden Opportunity

Explaining Ti Ti to her Class

04/10/23
Picking Mentors

Choose Wisely

04/05/23
Music Explains Me

Music Drives Me

03/03/23
Happy Birthday Moh Moh

And Many More

02/27/23
Jabbering Parrots

What We Can Learn from Churchill and Buffett

02/22/23
Fatty and Bo Bo Gyi

Addressing Our Nation's Problems

02/06/23
The Evolution of Aldie

According to a 21st Century Darwinian Theory

01/23/23
What's It All About Alfie?

From an Eighty-Year Old Alfie

01/20/23
My Quest for Eldorado

In Three Parts

01/16/23
Than

Myanmar's van Gogh

01/11/23
Grasping Reality

I Can't Explain It

01/09/23
Repeating the Past

It's Just Fake News

12/14/22
Problems are Assets

Seize the Problems

12/09/22
My Twilight Hauntings...

About Immortality

11/25/22
Growing Up Without Transparency

And Finally Discovering It

10/14/22
Facing Storms of Life

Another Either/Or Situation

10/07/22
Seeing Things More Clearly

On My Yellow Brick Road

08/22/22
Hoosier's Neighbor?

The Ultimate Question

08/17/22
An Important Teaching Moment

Joe and I Are Twins

08/10/22
Happy Birthday Snow

You Are 13

07/22/22
Another Mantra of Mine

Be a Storyteller

07/8/22
Trouble in River City

Come Hell or High Water

06/24/22
The Battle of the Alamo…

Past, Present, and Future

05/11/22
I Love Teaching…

Here in Myanmar or Anywhere

05/09/22
Ti Ti, the Driven

An Exceptional Young Lady

05/04/22
Grasping Reality

While My Clock Is Ticking

04/29/22
Diversity Visas

What's That All About, Alfie?

04/24/22
Acclimating to the New World

In Mt. Lebanon, Taunggyi, and Crown Point

04/20/22
Building Castles in the Sky

Pushing the Limits of Possibility

04/13/22
I Have Miles to Go

Before I Sleep

04/04/22
Seeing the Future

At Least Three Times

03/30/22
My Family in Myanmar:

A Sequel to What's It All About

03/28/22
Children and War

Ukraine and Myanmar

03/18/22
Ti Ti, the Teacher

Of Her Classmates and Me

03/16/22
My Great-Granddaughter

A Younger Version of My Granddaughters

03/07/22
History Is Repetitious

Then and Now

02/21/22
My Personality Quirks…

I Have Several

02/16/22
The Tale of My Foot

Years Ago and Today

02/11/22
Parallels Between Myanmar and America

Even Though They Are On the Other Side of the World

02/04/22
My Dream of Diversity

In the Footsteps of Bobby

02/02/22
When I Become a Billionaire…

A Jaguar SUV Will Be in My Garage

01/26/22
Two Countries

Living in One World

01/24/22
My Dreamland

During My Operation

01/19/22
Coming to America

A Dream of Many

01/17/22
A Reason for Being…

The Most Important Reason for My Being

12/31/21
Christmas:

Past, Present, and Future

12/24/21
Moh Moh's Roles in Our Family:

My Daughter and My Mother

12/06/21
I Love My Family

With Some Caveats

12/03/21
"The Moving Finger Writes"

Another Teaching Moment

11/26/21
My Extended Family

You Can See Her Painting.

11/15/21
A New World Order

The World from Campbell's Perspective

11/01/21
A New Ripple

And a Purposeful Life

10/27/21
Paying Homage…

To Me

10/25/21
The Duality of Changing

Times Change, and We Change

10/22/21
Miss Independent

Bo Bo Gyi's Granddaughter

10/15/21
Ti Ti and Education

Why Is Education Critical?

10/04/21
What's All This About Women?

The Times They Are A-Changin' Ever So Slowly

10/01/21
Once Upon a Midnight Dreary….

"Ride, Boldly Ride"

09/27/21
Parallels with Ti Ti

A Part of Which Are Genetic

09/24/21
"I'm Doing the Dance"

The Title of Ti Ti's Poem

09/03/21
Snow's Poem

About Her New Normal

09/01/21
Realizing the New Normal

What's All About, Alfie?

08/30/21
Gandhi's Tribute to Moh Moh

For Her Indomitable Will

08/11/21
It Is Time To Write Poetry

Another Teaching Event

08/06/21
A Follow-Up to Snow's Email

Another Teaching Moment

07/26/21
We Are Cave Men

But What Is Our Purpose in Life?

07/23/21
A Ngal Lay

My Great-Granddaughter

07/14/21
Poets Both Past and Present

Amanda Gorman and Sarah Kay

07/09/21
Write On

Advice from PaPa Al, aka Grandpa

06/28/21
Scarface PaPa Al

Isn't My Nickname

06/25/21
One More Comment For Ti Ti

As She Journeys Down Her Yellow Brick Road

06/11/21
The Little One,

A Part of My Family

06/09/21
Set Set Yo

And a Little Child

06/04/21
Ti Ti is Sweet Seventeen

Happy Birthday

06/02/21
Reincarnation of Ra-Ra…

Reincarnation of Ra-Ra…

05/14/21
Learn and Become a Storyteller

All You Need To Do Is To Travel

05/10/21
The History of Myanmar…

Is Being Written Now

05/07/21
The Haunting Question

Which Sir Launfal Are You?

04/30/21
| | | |
| --- | --- | --- |
| | A Funny Thing Happened While on Zoom My Fourth La Danse Macabre | 04/19/21 |
Learning from Collecting

Written by a Collector of Treasures

04/16/21
My Quest to Find Meaning Life

My Search for My Holy Grail

04/07/21
I Live in Two Worlds

I Have Benefited from One World

03/22/21
What's It All About Aldie

My Haunting Question

03/19/21
A Tale of Two Countries

And a Present-Day Theme and Variation of Life

03/03/21
Learning Is Three-Dimensional…

But It Is Discovered On the Road

01/29/21
Finding Immortality

Gilgamesh and Ti Ti

01/22/21
Purposeful Lives

On Steroids

01/13/21
Seeing Ourselves as Others See Us

In This Case, Ti Ti Seeing Herself

01/08/21
A Teaching Moment

With Ti Ti

01/01/21
Blue House Remodeled…

With Drive and Determination

11/30/20
The Giving and Getting

Both Parties Benefit

10/21/20
Hear Ye, Hear Ye…

Ti Ti Is Starting College Today!

10/16/20
Amazing Grace

Or More of the Same Insanity

10/07/20
My Two Worlds…

Affect My Life

10/05/20
This is Success in the Making

You Heard It First from PaPa Al

09/30/20
This Is an Addendum

Ti Ti, the Bridge Builder

09/25/20
From Then to Now

What a Difference Seven Years Has Made

09/23/20
Masks Matter…

To Some

09/16/20
Two Poems

By Two Ladies

09/14/20
I Live in Two Worlds:

One in the States and One in Myanmar

09/07/20
Coming Home to Roost

Kierkegaard, Mt. Lebanon, Dancing, and My Family

09/04/20
There Is More to Dreaming…

Than Just Dreaming

08/07/20
A Teaching Moment

While Walking Ginger

07/31/20
Ti Ti

My Granddaughter and Poet Laurate

07/24/20
"Give Me a Place to Stand...

And I Will Move the World."

07/20/20
A Tribute to Ti Ti

The Young Lady

07/06/20
The Long-Neck Women

A Tradition in Myanmar

06/24/20
Living in the New Normal

Our New World Order

05/29/20
The Use of Drugs

Donnie, Aldie, and Dr. Goodspeed

05/27/20
It Is All About Family

And Who Makes Up Our Family

05/20/20
Our Reason for Being

Discover It

05/18/20
The Elephant Ride

Over the Alps of Myanmar

05/11/20
Ballooning Over Bagan

With My Family

05/06/20
Ti Ti…

The Amazing Young Lady

04/29/20
Taung Kwe Pagoda

An Out of the World Location

04/27/20
Why I Love Inle Lake

Two Reasons

04/22/20
We Face Two Pandemics

Both Need Immediate Attention

03/11/20
Mr. Chips

An Updated Version

02/26/20
The Teak Bridge

Part 2 of a 4 Parts Series

01/29/20
Reflections on My Life

In My Twilight Years

01/27/20
My Swan Song

And My Family's Swan Song

01/17/20
Music as a Unifying Force

Also for Oneself

06/28/19
My Family Escaped

From the Jurassic Park in Myanmar

06/21/19
Family

Who Is Your Family?

06/17/19
Wanderlust

Travel with No Regret

05/01/19
The Moving Finger Writes

And the Writings Haunt Me

04/26/19
Ti Ti and Oscar Wilde's Advice

No Excuses and No Regrets

04/19/19
My Granddaughter…

Knows How to Play Her Cards

03/27/19
Ti Ti…

A Remarkable Young Lady

03/18/19
Dreaming….

About My Moment in Time

03/11/19
| | | |
| --- | --- | --- |
| | One Moment in Time Carpe Diem | 03/04/19 |
Warren Buffett

Don't Sleep Walk Through Life

02/22/19
Light at the End of the Tunnel

However, the Tunnel is an Illusion

02/06/19
Pa Pa Al's Grandfatherly Advice

To Ti Ti Who Doesn't Need It.

01/11/19
Christmas Gifts for Owen

From People Around the World

12/28/18
Christmas Gifts for Jack

From People Around the World

12/26/18
"Look at Me

I Am Old but I'm Happy"

11/14/18
Dreaming

The Drug for Realizing Your Hopes

11/07/18
Serendipitous Moments in My Life

And They Are Haunting Me

10/31/18
A Journey of a Thousand Miles…

Started in a Living Rooms

10/12/18
Sexism in Society

Especially in Washington

10/05/18
Ti Ti and Her Selfie

That's My Granddaughter…

04/09/18
Marner and Eppie

Me and the Girls

03/16/18
Ti Ti

The Tour Guide

03/15/18