Dancing with Death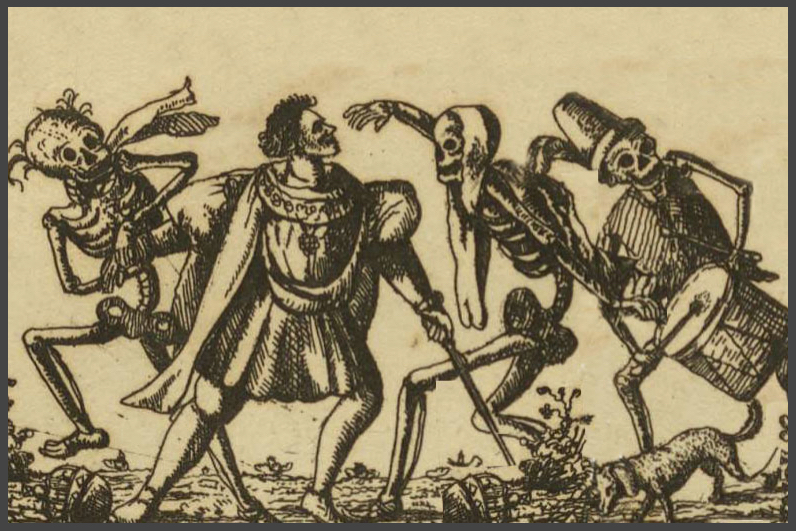 Having taught the humanities for years, I am keenly aware of the topic of dancing with death or what the French call La Danse Macabre. Looking back on the mid-14th century, Europe lost 100-200 million people due to the pandemic known as the Black Death. From 1346-53, the Black Death killed half the population of Europe because of the fleas of Oriental rats.
The art world from the 14th century and for many years later reflected upon Europe's dance with death. Artists like Pieter Brueghel, Hans Holbein, Albrecht Dürer, and many others have explored that topic.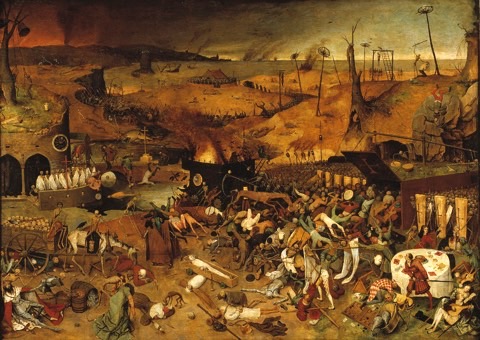 The Black Death influenced writing also. This is John Donne's reflection upon the dance with death.
No Man is an Island
No man is an island, entire of itself; every man is a piece of the continent, a part of the main. If a clod be washed away by the sea, Europe is the less, as well as if a promontory were, as well as if a manor of thy friends or of thine own were: any mans death diminishes me, because I am involved in mankind, and therefore never send to know for whom the bells tolls; it tolls for thee.
While Europeans realized their finiteness, each of us in our own lives will also face that reality. In 2008, I danced with death twice. Fortunately, I was able to lead death while dancing on both occasions. My dances were due to a traumatic brain injury from a fall and prostate cancer. In retrospect, they were both blessings. My perspective upon life is radically different from what it was prior to those two dances. I am driven to be productive in life. It has motivated me to do more for my family and friends. However, I want to leave a legacy to those beyond them. I have traveled extensively in the States and overseas. Many people need assistance both here and abroad. I realize that I will not always be able to lead death while dancing in the future. Carpe Diem informs my activity in life.
We all need to work at making our world a better place for all to live, because we will all ultimately dance with death. Our time is limited, as Professor Keating said, before we all will "fertilize daffodils."
---
The Evolution of Thanksgiving

A Long and Winding Road

11/24/23
A Future Thanksgiving

Far, Far Away

11/22/23
On the Road Again

Ginger, the Pooh Dog, and Me

11/10/23
| | | |
| --- | --- | --- |
| | If I Were Q I'd Tell the Whole Story of the Téméraire | 11/08/23 |
Do Not Go Gentle into That Good Night

A Lesson Taught by Dylan Thomas

11/06/23
Ginger's 7th Birthday

What's Life All About, Alfie?

10/30/23
Ginger's Check-Up

Again, at Purdue Veterinary Hospital

10/04/23
My World of Xanadu

Another Personal Parallel Essay

09/20/23
Tyson's Two Thoughts

Regarding AI and a Ticking Clock

09/15/23
The Importance of Happenstance

For Heavenly Clauses

09/08/23
Jumping Hoops for a Prescription

Raises Ethical Issues at Various Levels

09/04/23
Another Dance for Ginger

Learn and Live in the Moment

09/01/23
Thomas and Trump

The Teacher and Student

08/16/23
Haunting Photos

Then and Now

08/09/23
Oppie and Me

The Similarities are Striking

07/24/23
Ginger and I

Our Trip Down the Yellow Brick Road

03/13/23
Music Explains Me

Music Drives Me

03/03/23
Learning from Lao Tzu

To Live Life Daringly

02/13/23
The Importance of Footprints

But the Question is When

01/25/23
What's It All About Alfie?

From an Eighty-Year Old Alfie

01/20/23
My Quest for Eldorado

In Three Parts

01/16/23
It's All About We

An Important Lesson of Life

12/26/22
My Way

Morphing to My Mentoring

12/02/22
My Twilight Hauntings...

About Immortality

11/25/22
A Swan Song

Then and Now

11/18/22
Ginger is Now Six

As We Do the Dance

10/28/22
Growing Up Without Transparency

And Finally Discovering It

10/14/22
Narcissus of the Past

And Narcissus of the Present

08/19/22
Trilogy of Diseases

How Are You Going to Address the Trilogy?

08/12/22
An Important Teaching Moment

Joe and I Are Twins

08/10/22
I Was Under the Knife

For Nearly Five Minutes

08/5/22
Learning from the Japanese

About What We Don't Know

07/11/22
Doing the Dance on Steroids

And Promises to Keep

06/29/22
Miah Is the 21st Century Eppie

A Hand Is Put Into Theirs….

06/17/22
The Battle of the Alamo…

Past, Present, and Future

05/11/22
Grasping Reality

While My Clock Is Ticking

04/29/22
I Have Miles to Go

Before I Sleep

04/04/22
Seeing the Future

At Least Three Times

03/30/22
My Family in Myanmar:

A Sequel to What's It All About

03/28/22
The Problem with Yes-Men

Who Say Yes All the Time

03/23/22
Children and War

Ukraine and Myanmar

03/18/22
My Great-Granddaughter

A Younger Version of My Granddaughters

03/07/22
A Tale of Two Leaders:

Address Their Rivals

03/02/22
Unintended Consequences

From Easter Island

02/28/22
If Everything Around You Seems Dark…

Look Again. You May Be the Light.

02/26/22
Putin's Legacy

Gilgamesh's Lesson

02/23/22
History Is Repetitious

Then and Now

02/21/22
Kiev

Then and Now

01/28/22
When I Become a Billionaire…

A Jaguar SUV Will Be in My Garage

01/26/22
Two Countries

Living in One World

01/24/22
My Dreamland

During My Operation

01/19/22
A Cancer, Too, Took Root

But the Backstory Is More Important

01/10/22
Young Frankenstein

And Her Treatment Plan

12/27/21
Christmas:

Past, Present, and Future

12/24/21
There Is More To Life…

Than Paddling Around and Accomplishing Nothing

12/08/21
I Love My Family

With Some Caveats

12/03/21
Waking Up…

To Getting Old

11/29/21
Ginger and I

In Our Recovery Modes

11/22/21
Happy Birthday, Ginger

I Wish You Many More with Your Blue Dolphin

10/29/21
A Dream Delayed

Or a Dream Dashed

10/13/21
My Takeaway

From the Great Chicago Fire

10/08/21
Revisiting Gilgamesh

A Teaching Moment

09/17/21
The Pros and Cons…

Of Replicating Our Parents

09/06/21
"I'm Doing the Dance"

The Title of Ti Ti's Poem

09/03/21
Snow's Poem

About Her New Normal

09/01/21
Realizing the New Normal

What's All About, Alfie?

08/30/21
There Is a Message in the Mask

Listen To the Medical Professionals or Get Sick

08/25/21
The Eternal Question

The Harvest or the Seeds

08/23/21
Gandhi's Tribute to Moh Moh

For Her Indomitable Will

08/11/21
It Is Time To Write Poetry

Another Teaching Event

08/06/21
Sir Gawain, the Knight

Doing What a Knight Does

08/01/21
Ginger Doing the Dance

And An Important Takeaway

07/28/21
Disinformation Is Deadly

So, Why Lie to America?

07/19/21
Poets Both Past and Present

Amanda Gorman and Sarah Kay

07/09/21
Resurrection

I'm Alive Along with My Computer, and Ginger

07/07/21
If They See the Goblin…

They Might Also See Planet X.

06/23/21
More Apologies Expressed

To My Physicians

06/21/21
One More Comment For Ti Ti

As She Journeys Down Her Yellow Brick Road

06/11/21
The Little One,

A Part of My Family

06/09/21
Ti Ti is Sweet Seventeen

Happy Birthday

06/02/21
Memorial Day 2021

It Is in Giving that We Get

05/31/21
Reincarnation of Ra-Ra…

Reincarnation of Ra-Ra…

05/14/21
Three Take-Aways

From Denzel Washington's Commencement Address

05/03/21
He Is My Brother

On This Pale Blue Dot

04/28/21
| | | |
| --- | --- | --- |
| | Problems Offer a Choice Either a Cul-de-sac or a Challenge | 04/23/21 |
| | | |
| --- | --- | --- |
| | A Funny Thing Happened While on Zoom My Fourth La Danse Macabre | 04/19/21 |
Learning from Collecting

Written by a Collector of Treasures

04/16/21
What's It All About Aldie

My Haunting Question

03/19/21
| | | |
| --- | --- | --- |
| | We Over Me… Or Me Over We | 03/08/21 |
The Pandas and My Pooh

And Other Followers of Gilgamesh

02/03/21
Purposeful Lives

On Steroids

01/13/21
A Christmas Carol in 2020…

It Is in Giving that We Get

12/25/20
Achilles' Heel

Then and Now

12/16/20
Discerning the Truth

A Means to Live Life

11/04/20
It Was Four Years Ago

And What a Difference Four Years Makes

11/02/20
Ginger's Birthday Bash

I Hope That She Has Many More

10/30/20
We Are Both Dancers…

Ginger and I

10/28/20
The Importance of the Sound of Music…

According to Nietzsche and Me

10/26/20
Bunker Time

A Prediction

10/14/20
Amazing Grace

Or More of the Same Insanity

10/07/20
My Two Worlds…

Affect My Life

10/05/20
This Is an Addendum

Ti Ti, the Bridge Builder

09/25/20
From Then to Now

What a Difference Seven Years Has Made

09/23/20
Dealing with Reality

In the Human and Canine World

09/18/20
Two Poems

By Two Ladies

09/14/20
I Live in Two Worlds:

One in the States and One in Myanmar

09/07/20
Coming Home to Roost

Kierkegaard, Mt. Lebanon, Dancing, and My Family

09/04/20
Let Me Get This Straight…

About the Trump Flu

08/03/20
Egoism vs Altruism

There is a Better Way

07/27/20
The Use of Drugs

Donnie, Aldie, and Dr. Goodspeed

05/27/20
A New Memorial Day

Due to the COVID-19

05/25/20
The Thoughts of a Doctor

A Teaching Opportunity

05/22/20
It Is All About Family

And Who Makes Up Our Family

05/20/20
Our Reason for Being

Discover It

05/18/20
The World is Dancing…

Dancing with Death

04/24/20
The Week That Was

Dance on with Determination

04/20/20
"I Could Stand in the Middle of Fifth Avenue…."

You Are Standing on Main Streets in America and Shooting

04/13/20
The Brighter Side of Life

Somewhat Brighter

04/10/20
Another Teaching Moment

About Times Past

03/27/20
Regarding Dancing with Coronavirus

Campbell's Five Commandments

03/25/20
Let's Make a Deal

Thanks to Modafinil

03/23/20
The Cave vs Reality...

That is the Question.

03/20/20
A Teaching Moment

For Today and the Future

03/18/20
Trump's Nemesis

President Obama

03/16/20
| | | |
| --- | --- | --- |
| | I Don't Like FailingModus Operandi | 03/13/20 |
Think Before You Act

Then Dare Greatly

03/09/20
Circle of Life

Dance On

03/06/20
Angry Old Men

There is an Alternative

02/21/20
Ginger

Part 3 of a 4 Part Series

02/05/20
Kayla

Dog Whisperer

02/03/20
The Teak Bridge

Part 2 of a 4 Parts Series

01/29/20
Perspective

What You See Is What You Get.

09/20/19
It All Boils Down to Legacy

What Will You Leave This World?

09/16/19
Plagiarism

Sharpie-Gate

09/11/19
My Wonder Drug

Modafinil

08/23/19
Lili Marleen

A Musical Journey to Reality

07/26/19
Ginger's Vet

My Shrink

07/19/19
The Dog Days of Summer

Without Air Conditioning

07/17/19
More Music

More Defining

06/19/19
Another Déjà Vu

In the Arts and Philosophy

06/07/19
The Moving Finger Writes

And the Writings Haunt Me

04/26/19
Ti Ti and Oscar Wilde's Advice

No Excuses and No Regrets

04/19/19
Lord of the Dance

From Three Perspectives

04/05/19
Coffin Bridge…

Build What You Need

04/01/19
Vocation of An Old Man…

Being a Bridge Builder

03/29/19
I Will Rage, Rage…

On Behalf of 1250 Students and One Celestial Comet

03/25/19
Dealing with the Reaper

By Coming Alive and Living

03/13/19
Dreaming….

About My Moment in Time

03/11/19
Going Belly-Up

Whales and People

03/08/19
| | | |
| --- | --- | --- |
| | One Moment in Time Carpe Diem | 03/04/19 |
Before Trump's America

And After Trump's America

03/01/19
NiC and Narcissus

There Is a Better Alternative.

02/27/19
Inferiority Complex

Womb Envy vs. Penis Envy

02/25/19
Warren Buffett

Don't Sleep Walk Through Life

02/22/19
I Made a Mistake…

Imagine That

02/13/19
This Essay Addresses Alfie

What's It All About?

01/28/19
The Two Draculas

The Man and the Ant

1/2/19
A New Year's Eve

With a New Resolution for the Coming Year

12/31/18
What Drives Me…

My Himalayan Salt Lamps

12/19/18
Way Back Home…

In America and Myanmar

11/28/18
"Look at Me

I Am Old but I'm Happy"

11/14/18
Serendipitous Moments in My Life

And They Are Haunting Me

10/31/18
Keep Calm

And Things Seem to Work Out

10/24/18
On Making Your Mark

And Leaving It

10/22/18
Bette Davis Eyes…

But They Are in Myanmar

10/19/18
Ginger's Vet…

My Psychiatrist

10/17/18
A Journey of a Thousand Miles…

Started in a Living Rooms

10/12/18
Rhythm of My Heart

Here and Abroad

10/03/18
Being a Young Turk…

During the 20th Century

09/26/18
Ginger and Me

Just the Two of Us

09/21/18
McCain's Life and Death

The Life and Times of a Great American

09/10/18
Stumbling into the Truth…

Related to Forever Young

09/07/18
The Pearl of Death

Or the Lesson of Life

09/05/18
Deep State

Bob Woodward and Me

08/15/18
The Meaning of Being

Or Why Am I Here?

08/13/18
| | | |
| --- | --- | --- |
| | Snow, the Virtuoso Träumerei and The Great Gate of Kiev | 08/06/18 |
If I Fail…

I Will While Daring Greatly

07/06/18
Possible Explanations of Death

A Personal Apocalypse

06/29/18
Ti Ti, Snow, and Fatty

Having Fun Without PaPa Al

06/20/18
Pa Lian Burmese Restaurant

A Place Where I Learned a History Lesson

06/18/18
Stephen Hawking Left Us a Great Deal

We Need To Follow Our Science Professor

06/15/18
Clarity About Dancing

Being Arthur Murray in the Real World

06/11/18
Explaining Doing the Dance…

Man, the Lights Are Bright

05/23/18
Ten Years and Counting

What a Difference a Dance Makes

05/18/18
Ginger is One and a Half Years Old…

But What an Eighteen Months

05/04/18
Henny Penny Cries Out…

"The Sky Is Falling."

05/02/18
A Wrinkle in Time

Thinking Outside the Box

04/25/18
Marner and Eppie

Me and the Girls

03/16/18
My Heart Issues—Part II

The One That's Pumping Blood

03/14/18
Gifts Given

But Never Received

03/12/18
The Question Is…

How Will You Be Remembered?

02/26/18
What Would You Attempt To Do

If You Knew You Could Not Fail?

02/21/18
An Age of Revolution

If We But Know What To Do With It

02/16/18
| | | |
| --- | --- | --- |
| | Having a Purpose Carpe Diem | 02/12/18 |
The Water Horse of Loch Ness

And Our Water Horses of Life

02/07/18
I Failed

For the Time Being

01/26/18
Lesson Learned About Dreaming

I Learned from Bobby

01/22/18
The Best Week of My Life…

Occurred While I Was in Burma

01/12/18
The Scarlet Claw

A Date Night Movie

12/18/17
Doing the Dance...

Fathoming the Unfathomable

12/11/17
On Picking Mentors

Pick Carefully

12/01/17
The Big Fib:

"I'm, like, a really smart person."

11/27/17
Why Ginger?

The Hauntings of My Pooh Dog

11/24/17
-->
The Tattoo of My Pooh and Me

Ginger and Don Quixote

11/10/17
The Reason Behind...

Everything

11/08/17
Live in the Moment...

Plan for the Future

10/20/17
Lawrence of Arabia

One of My Mentors

10/06/17
Jade Suit...

Then Roll Me Up When I Die.

10/04/17
Ti Ti

A Reason for Being

10/02/17
Ginger and I

Promises To Keep and Miles To Go Before We Sleep

09/29/17
Mr. Lee and Mr. Rotteveel

Two Stories: About When I Was Young and When I Am Old

09/22/17
The Double-Axe

A Symbol of My Identity

09/15/17
Ginger

And the Issue of Kissing

08/30/17
Essay with No Words

But Look At My Eyes

08/21/17
Me and My Shrink

Dealing With What Drives Me

08/16/17
Ti Ti and I

A Most Haunting Relationship

08/04/17
Oppie

The Scientist and the Philosopher

07/17/17
Just Drop Me Off

And Ginger's Toy Dog

07/14/17
Rage, Rage...

Against the Pissing Pug

07/10/17
What Did I Learn...

From Vinegar Joe

07/05/17
Frobisher's Quests

The Northwest Passage and Gold

05/31/17
Bridge Builder or Wall Builder

A Clear Choice for Donald the Dumb

05/22/17
To Become…

What You Might Have Been

04/28/17
Getting It Together…

An Avenue to Acquiring Dreams

04/26/17
The Meaning of Life

It Is All About Fighting the Good Fight for Others

04/19/17
Life Is a Bowl of Cherries

Or the Best Laid Plans of Mice and Men

04/14/17
Chick Magnet

And the Hauntings

03/31/17
The Hauntings

About Bobby and the Gingers

03/27/17
On Riding to Samara

Then and Now....

03/10/17
Invictus

Thank You, Mrs. Davis

03/06/17
A Dog's Purpose

The Person's Purpose

03/03/17
Robert the Bruce

I'll Drink to Him!

02/17/17
Ginger, Socks, and Poe

Finding Lenore....

02/13/17
The Meaning of Ginger

The Winter Solstice

02/01/17
A Lesson of Life

Learned from a Cockroach

01/04/17
Ginger, the Dances, and the Lady

It Is All About Determination

01/02/17
FLASH!!!

We Have More Time This Year.

12/30/16
I'm Hanging My Lantern

For All To See

12/23/16
Mentor Tell You Something About You

The Value of Post-it Notes

12/09/16
Moh Moh's Email

Big Dreams Never Run Smooth

12/02/16
Live While Dying

Rather Than Die While Living

11/28/16
Deplorable...

Defining the Definition

11/25/16
Roll Me Up

I Am Free to be Me at 73

11/18/16
Tom Brokaw...

Another Dancer

11/16/16
The Lady, Bobby, and Bagan

Triangulation Process

11/14/16
On the Road Again...

Like a Gypsy

11/07/16
The Lady

And the Peacock

11/04/16
Dostoyevsky Danced with Death

As a Result, Became a Great Writer.

11/02/16
The Value of Grandchildren

Links to the Past and Future

10/31/16
Resurrecting Dashed Dreams

By Continuing to Dream

10/17/16
A Bridge Too Far

Isn't Always the Case

10/14/16
Death Teaches

While You Dance

10/12/16
What a Difference a Few Years Makes

If You Are Joisting with Windmills

10/10/16
GiGi's Psychoanalysis

Me and My Hauntings

09/23/16
The Fighting Téméraire

Explained My Nostalgia to Me

09/21/16
The Donald as the Dark Knight He

Ain't

Don Quixote
09/19/16
Why Do I Care?

More to the Point, Why Doesn't Everyone Care?

09/16/16
Confucius Say,

"Petty Man Understands Profit"

09/14/16
Return to Myanmar

Dream Big

09/02/16
Rediscovering the Past...

Eleanor Roosevelt

08/31/16
The Meaning Behind the Man

The Man of La Mancha

08/29/16
Trying and Failing...

Is Better than Failing without Trying

08/26/16
Listening to My Mentors

And Dreaming Impossible Dreams

08/19/16
The Terrorism Trifecta

Three More Dances with Death

08/12/16
The Kiss

From Life to Death

08/08/16
We Must Address Conservativism...

For Two Essential Reasons

08/05/16
Bobby Kennedy

Still Reaches Out to Us.

07/29/16
My Love Letters

They Must Be Written

07/22/16
We Shall Overcome

A Belief Amid Darkness

07/18/16
Last Words

Or Don Quixote's Joists with Windmills

07/04/16
Talking to a Tree

Growing in a Silo

06/24/16
The Angel Spoke...

And I Listened.

06/10/16
The Thinkers Three

Jack, Owen, and Me

06/06/16
The Advice of Master Kong

Enjoy Life by Not Working

05/30/16
Morphing of the Flu with Polio

A Strange Juxtaposition

04/29/16
The Third Dance

Apparently Was a Misstep

04/27/16
The Relationship Between Death and Life

Death Can Cause Us to Live Life

04/25/16
I am Don Quixote

But I Am Not from La Mancha

04/15/16
Maude Adams

Found Somewhere in Time

04/13/16
In My Life

I'll Never Lose Affection for People and Things

04/11/16
Christopher Reeve

Another Dancer Who Could Also Fly

04/08/16
Worthless Windmills

Time Will Tell Their Worth

04/01/16
Learning from My Mentor

A Knight-Errant On His Deathbed

03/28/16
I Want to Have Dinner for Two

A Date and Someone Who Has Done the Dance

03/23/16
Einstein's Other Theory

From a Genius

03/18/16
Could I Have This Dance...

For the Rest of My Life?

03/11/16
What Drives Me?

And the Answer Is....

03/07/16
On Seeing the Light

Chuck, Paul, and Me

03/04/16
My Casablanca Party

Morphed Into My La Mancha Party

02/29/16
Two Roads in the Wood

Choose Wisely

02/26/16
The Art of Beating the Grim Reaper

Follow Randy Pausch's Example

02/24/16
Grave or No Grave

That is the Question

02/22/16
Best of Times, Worst of Times

It Is Your Choice; Choose Wisely

02/19/16
Buddha's Strange Parable...

Which We Need to Understand

02/15/16
The Value of Dreaming

About My List of Dulcineas

02/12/16
The Third Dance...

Maybe or Maybe Not

02/08/16
Somewhere in Time

The Importance of Memories

02/04/16
The Drinkable Book

I Wish I Had One While in Indochina

02/03/16
Another Dancer

David Hume

02/01/16
Revitalizing My Brain

After Winding Up in ICU

01/25/16
Dreams will come to you....

If You Are True to Your Quest

01/22/16
A Pit Stop Can Be Our Destination

Don't Miss Your Destiny

01/20/16
Miguel Cervantes

As Don Quixote

01/18/16
"I'm Dying, and I'm Having Fun."

Randy Pausch is Correct

01/15/16
The Little Match Girl

And The Golden Statue

01/11/16
The Gift of an Angel

It is More About My Feelings

01/06/16
New Year

New Booty

01/01/16
Going to Hell in a Handbasket

And the Tibetan Mask

12/14/15
Doing the Dance Again

How to Address Both New Dances

12/11/15
I Know Who I Am...

And Have Found Two People Who Understand Me

12/04/15
Responses to Paris

Both Are Vital

11/25/15
What a Feeling

And It Is a Great Feeling

11/20/15
Pandora Provides Hope...

Don Quixote Provides Determination

11/09/15
Don Quixote

Then and Now

11/04/15
Dr. Marchand Knows Medicine Well...

And He Knows Life Well Also

11/2/15
Doubling Down...

To Make Dreams Come True

10/19/15
The Old Pine Table

An Object of Renewal and Rebirth

10/14/15
It's Confession Time...

And It Isn't Sunday

10/09/15
The Mahogany Bench

A Place for Dreaming....

10/07/15
The Right to Live

And the Right to Die

10/05/15
Squirt's Observations of Her Papa

A Modern Day Eppie's Reflection

10/02/15
The Little Wooden Box

An Updated Pandora's Box

09/30/15
Collecting Coins

A Tradition Continues

09/28/15
A Great Dancer with Death

A Sobering Experience

09/21/15
Putting the Pieces Together

The Joy of Coming of Age

09/18/15
The Tulip Pitcher

A Picture of Springtime

09/16/15
The Felt Picture

A Picture of Hopefulness

09/09/15
A Second Look at Life

Toward the End of Life

09/07/15
From Whence Does the Spark Come?

The Creative Act of Pondering

08/24/15
The Value of Pain

Or How to Retrieve the Torpedo

08/21/15
A Man with a Mission...

Sinking a German U-boat

08/12/15
Dinner with GiGi

The Socratic Method of an Older Woman

07/17/15
What Makes Me Tick

Finally, an Explanation

07/12/15
What Matisse Taught Me Years Ago,

Which I Finally Fully Understand

07/10/15
Alan Seeger

And His Dance with Death

07/04/15
What I Learned About Life...

From Facing Down the Dragon

06/29/15
Wading Through the Water of Life

Advice by Pierre Teilhard de Chardin

06/24/15
Lincoln Danced with Death

...and Continued on with Life.

06/10/15
The Benefit of Problems

Or the Only Means to Success

06/08/15
Cancer and Crabs

Strange History that They Both Share

06/05/15
Slaughterhouse-Five

Vonnegut's Dance with Death

06/01/15
Dancing with Death

Allows You to Live

05/22/15
It Is About How You Lead Your Life

Start With Refining Words

05/11/15
Steve Jobs and Charles Dickens

How to Avoid the Ghosts

05/08/15
Nepal Then

And Now

05/03/15
The Value of Writing

It Forces You To Remember

05/01/15
"We Get Old Too Soon...

And Wise Too Late"

04/27/15
Booth Died 150 Years Ago Today

How Has America Changed?

04/26/15
Fertilizing Daffodils

But in the Meantime....

04/24/15
How Do We Learn?

The Lessons in Learning

04/13/15
"Live as if You Were to Die Tomorrow."

"Learn as if You Were to Live Forever."

04/06/15
Lead Death as You Dance with Death

It Will Change Your Life

03/24/15
Some People Feel the Rain

Others Just Get Wet.

03/16/15
Experience

Redefining the Word

03/05/15
The Daunting Duality:

Long Life vs. Giving It All Up

02/04/15
My Head Fake

During My Last Lecture

02/03/15
Graham Kerr and Me

On Scottish Delicacies

02/02/15
Looking Back and Remembering

Looking Forward and Hoping

01/20/15
It Was the Best of Times

It Was the Worst of Times....

01/01/15
Seeing When You Think You See...

The Difference is Dazzling.

10/31/14
A Lesson of Life from Alexander the Great

"Each moment free from fear makes a man immortal."

10/17/14
Pushing Oneself...

What I Learned from T. S. Eliot

09/14/14
First, It Was a Car and then Women

Jack and the Learning Curve to Adulthood

07/21/14
On Seeing the Light...

More Clearly

03/28/14
An Interesting Thing Happened to Me

...On the Road to Mandalay.

01/20/14
What Makes Me Tick?

The True Value of Pain

01/07/14
Leaving a Legacy

A Legacy More Valuable Than Money

01/05/14
Winter Contains Spring...

I'm Enjoying the Blessing

09/27/13
Forrester and I in Our Winters

Seasons Change Young Man...

09/10/13
The Passing of Elmo to a New Generation...

Or the Passing of Cookie Monster to a Free Scotland

07/17/13
Do You Have Any Suggestions...

On Planning My New Life?

05/18/13
Wondrous World of Why?

On Staying Engaged in Life

02/03/13
The Fighting TÉMÉRaire

Growing Old and Understanding Art

12/15/12
Reflections on Getting Old...

One of the Reasons for My Loving Grandchildren

11/23/12
Acquiring a Heart of Wisdom...

Cuddling with Grandchildren

07/23/12
Advice to Jack

Having Lived Much of My Life

01/15/12