On Seeing the Light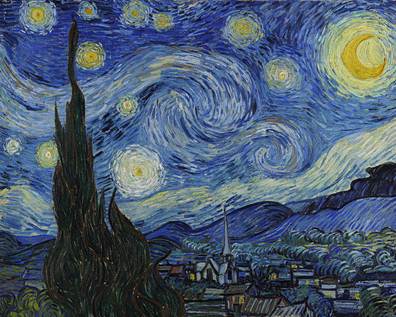 I have taught art history for years and admire the post-impressionist, Vincent van Gogh. I especially love Starry Night. I have seen Starry Night while it was on loan at the Art Institute in Chicago years ago. Van Gogh painted the town of Saint-Rémy-de-Provence from his hospital room in June of 1889. He struggled much of his life with a long list of medical and emotional problems. One of his major problems was his eyesight. Nonetheless, van Gogh paints a nighttime scene of the village while wrestling with his seeing issues.
While I never was in a sanatorium like van Gogh, I had a recent appointment with my cardiologist, Dr. Marchand. It was a routine checkup for high blood pressure. All was well with my heart. However, I asked him why I was so wound-up having just returned from Myanmar/Burma. He replied that it was due to my endorphins. I pressed him further about why my endorphins were up.
Dr. Marchand understood that I wanted to know. I am different than I was prior to going to Myanmar. He paused, looked directly into my eyes, and said, "You have seen the light." While our eyes remained locked with each other, he paused, and said nothing more. Once he knew that I had gotten his message, he told me that he would see me in six months. I will never forget that office visit with Dr. Marchand.
Like van Gogh, I was living but not seeing everything. Vincent van Gogh painted Starry Night, and I saw the light.
I See More Clearly...

Thanks to Carl Sagan.

03/24/14
---
Theseus and Me

A Ball of String or Modafinil

10/02/19
Autotelic

Vincent, Me, and Modafinil

09/27/19
Starry, Starry Night….

What Do You See?

08/12/19
My Next Adventure:

The Die is Cast

08/02/19
My Family Escaped

From the Jurassic Park in Myanmar

06/21/19
Family

Who Is Your Family?

06/17/19
"Go Fly a Kite!"

Franklin Did

06/10/19
Prometheus, Galileo, and Nietzsche

Verses Zeus, God, and Nihilism

05/22/19
Nietzsche Apparently Read Thoreau

But I Have Read Much of Both

05/17/19
Purpose of Our Being

What's It All About, Alfie

05/10/19
Carl Sagan

The World Learned Much from Him

05/06/19
Pathétique

A Way to Live Life

05/03/19
Wanderlust

Travel with No Regret

05/01/19
Ti Ti and Oscar Wilde's Advice

No Excuses and No Regrets

04/19/19
Hanging My Problem on My Lantern

Contacting Clarence Page

04/12/19
Hanging My Problem on My Lantern

Contacting Rod Stewart

04/10/19
Scared!

Seen as a Teaching Moment

04/08/19
It Is A Bridge Too Far

Only If You Are a Coward

04/03/19
Coffin Bridge…

Build What You Need

04/01/19
Vocation of An Old Man…

Being a Bridge Builder

03/29/19
I Will Rage, Rage…

On Behalf of 1250 Students and One Celestial Comet

03/25/19
The Purpose of the Universe

Or My Window on the World

03/20/19
Ti Ti…

A Remarkable Young Lady

03/18/19
Dealing with the Reaper

By Coming Alive and Living

03/13/19
| | | |
| --- | --- | --- |
| | One Moment in Time Carpe Diem | 03/04/19 |
Inferiority Complex

Womb Envy vs. Penis Envy

02/25/19
Tintern Abbey

Viewed by Wordsworth and Turner

02/18/19
My Fistful of Meā Culpā…

To Our President

02/15/19
I Made a Mistake…

Imagine That

02/13/19
This Essay Is About Morphing

Pelosi, Donald the Dumb, Pausch, Gandhi, and Me

02/11/19
Something to Dream About

While Waiting for the IRS's Approval

02/08/19
Light at the End of the Tunnel

However, the Tunnel is an Illusion

02/06/19
The Value of Pain

Can Produce Ultimate Bliss

02/04/19
A Very Brief History of Sexism in Science

It All Started with a Blinking Neutron Star

02/01/19
This Essay Addresses Alfie

What's It All About?

01/28/19
Pa Pa Al's Grandfatherly Advice

To Ti Ti Who Doesn't Need It.

01/11/19
A New Year's Eve

With a New Resolution for the Coming Year

12/31/18
It's All About Family

I Agree with John Lewis

12/17/18
The Magnificent Seven…

My Dream Team

12/07/18
Way Back Home…

In America and Myanmar

11/28/18
Building a Log Cabin

You Are Really Smart; I'll Tell My Brother

11/12/18
Serendipitous Moments in My Life

And They Are Haunting Me

10/31/18
Donald the Dumb

Should Have Taken Art History

10/26/18
Keep Calm

And Things Seem to Work Out

10/24/18
Bette Davis Eyes…

But They Are in Myanmar

10/19/18
Rhythm of My Heart

Here and Abroad

10/03/18
Being a Young Turk…

During the 20th Century

09/26/18
A Noble Person…

Meets Another Noble Person

09/17/18
McCain's Life and Death

The Life and Times of a Great American

09/10/18
Deep State

Bob Woodward and Me

08/15/18
Be a Dreamer....

And Never Quit Dreaming.

08/10/18
| | | |
| --- | --- | --- |
| | Snow, the Virtuoso Träumerei and The Great Gate of Kiev | 08/06/18 |
Why Papa?

Answering the Why Questions

07/27/18
The Ripple Effect…

"…Can Sweep Down the Mightiest Walls."

07/23/18
Eppie…

Then and Now

07/20/18
Ti Ti's Birthday Present

On Her 14th Birthday

07/16/18
The Weaker Sex

Will Soon Be the Dominant Sex

07/11/18
If I Fail…

I Will While Daring Greatly

07/06/18
Possible Explanations of Death

A Personal Apocalypse

06/29/18
Teach Your Children Well

Lasko and Trump They are Coming To Get You….

06/22/18
Ti Ti, Snow, and Fatty

Having Fun Without PaPa Al

06/20/18
Stephen Hawking Left Us a Great Deal

We Need To Follow Our Science Professor

06/15/18
Clarity About Dancing

Being Arthur Murray in the Real World

06/11/18
The Goddess Ganga

The Transcendence of Reality

06/06/18
Explaining Doing the Dance…

Man, the Lights Are Bright

05/23/18
Who Are Your Mentors?

Here Are Mine

05/21/18
Ten Years and Counting

What a Difference a Dance Makes

05/18/18
758 Horns of a Dilemma

The House of Cards

05/16/18
Forrester and Jamal

You and I

05/11/18
Projection

Lock Him Up

05/07/18
A Wrinkle in Time

Thinking Outside the Box

04/25/18
Dear PaPa Al.....

Dear Ti Ti

04/16/18
Frederick Douglass

A Better Man Than I

04/13/18
Bobby's Suggestion About My Problems…

A School in Taunggyi, Myanmar

04/06/18
Marner and Eppie

Me and the Girls

03/16/18
The Question Is…

How Will You Be Remembered?

02/26/18
An Age of Revolution

If We But Know What To Do With It

02/16/18
The Widow's Mite

And the Rich Donald the Dumb

02/09/18
The Water Horse of Loch Ness

And Our Water Horses of Life

02/07/18
The Art of Asking Questions…

About Which You Know the Answers

02/05/18
Moh Moh, Tin Tin, and Me

We Are the Incarnations of Bobby

01/31/18
I Failed

For the Time Being

01/26/18
What I Learned In High School

Applies To This Moment In Time

01/24/18
Lesson Learned About Dreaming

I Learned from Bobby

01/22/18
We Are Family

Versus Racism

01/19/18
Doing the Dance...

Fathoming the Unfathomable

12/11/17
Confucius Said...

But We Haven't Listened

12/04/17
The Big Fib:

"I'm, like, a really smart person."

11/27/17
The Tattoo of My Pooh and Me

Ginger and Don Quixote

11/10/17
The Reason Behind...

Everything

11/08/17
Live in the Moment...

Plan for the Future

10/20/17
Free To Be Me—

A Driven Dancer

10/11/17
Ginger and Santayana

Remember the Past

10/09/17
Lawrence of Arabia

One of My Mentors

10/06/17
Ti Ti

A Reason for Being

10/02/17
Ginger and I

Promises To Keep and Miles To Go Before We Sleep

09/29/17
Ginger

AKA Longshanks

09/27/17
The Double-Axe

A Symbol of My Identity

09/15/17
The Hollow Man

Who Wears Long Ties

09/04/17
When Dreams Aren't Realized

What Should You Do?

09/01/17
| | | |
| --- | --- | --- |
| | Minnows or Manhood Or Scent of a Woman.... | 08/28/17 |
Akhenaten...

My Mentor

08/25/17
Essay with No Words

But Look At My Eyes

08/21/17
"Better Angels of Our Nature"

In America, Mexico, and Burma

08/19/17
Clarence Page and Donald the Dumb—

The President of Trump University

08/18/17
Ti Ti and I

A Most Haunting Relationship

08/04/17
Macbeth...

Guilt Spills Itself for Fear of Being Spilt

08/02/17
The Pentagon Papers...

Then and Now

07/31/17
| | |
| --- | --- |
| | 07/17/17 |
Just Drop Me Off

And Ginger's Toy Dog

07/14/17
"Close to Treason"

It Is Close to Stupid but Not Treason.

07/12/17
Rage, Rage...

Against the Pissing Pug

07/10/17
What Did I Learn...

From Vinegar Joe

07/05/17
Impeachment of Trump

And the Tower of Babel

06/30/17
Donald the Dumb's Dilemma

Falling from Great Heights

06/21/17
Teaching Donald the Dumb

There Is No Happiness Where There Is No Wisdom

06/16/17
The Ides of June

And Religious Ties

06/14/17
Ginger's Predecessors

And My Domesticated Carnivore

05/19/17
Three Blind Mice…

And Bloody Mary

05/08/17
Brexit vs Scoxit

The Death Blow to the British Empire

05/01/17
The Help

Déjá Vu

04/17/17
Life Is a Bowl of Cherries

Or the Best Laid Plans of Mice and Men

04/14/17
Chick Magnet

And the Hauntings

03/31/17
The Hauntings

About Bobby and the Gingers

03/27/17
On Riding to Samara

Then and Now....

03/10/17
Invictus

Thank You, Mrs. Davis

03/06/17
Robert the Bruce

I'll Drink to Him!

02/17/17
Ginger, Socks, and Poe

Finding Lenore....

02/13/17
A Lesson of Life

Learned from a Cockroach

01/04/17
Deplorable...

Defining the Definition

11/25/16
Roll Me Up

I Am Free to be Me at 73

11/18/16
Tom Brokaw...

Another Dancer

11/16/16
On the Road Again...

Like a Gypsy

11/07/16
Dostoyevsky Danced with Death

As a Result, Became a Great Writer.

11/02/16
Resurrecting Dashed Dreams

By Continuing to Dream

10/17/16
The Fighting Téméraire

Explained My Nostalgia to Me

09/21/16
Why Do I Care?

More to the Point, Why Doesn't Everyone Care?

09/16/16
Confucius Say,

"Petty Man Understands Profit"

09/14/16
Rediscovering the Past...

Eleanor Roosevelt

08/31/16
The Meaning Behind the Man

The Man of La Mancha

08/29/16
Trying and Failing...

Is Better than Failing without Trying

08/26/16
Listening to My Mentors

And Dreaming Impossible Dreams

08/19/16
The Terrorism Trifecta

Three More Dances with Death

08/12/16
We Must Address Conservativism...

For Two Essential Reasons

08/05/16
Bobby Kennedy

Still Reaches Out to Us.

07/29/16
The Queen's Haunting...

Bohemian Rhapsody

07/27/16
We Shall Overcome

A Belief Amid Darkness

07/18/16
My Sherpa Statue Spoke

A Valuable Time Spent Listening

06/17/16
The 5-Things Test

Seeing Yourself as Others See You

06/15/16
The Angel Spoke...

And I Listened.

06/10/16
The Value of My Hauntings....

It Forces the Issues

06/03/16
Mr. Turner

The Dualism of Feelings

05/06/16
The Third Dance

Apparently Was a Misstep

04/27/16
How to be Smarter

Than We Think We Are

04/18/16
I am Don Quixote

But I Am Not from La Mancha

04/15/16
Worthless Windmills

Time Will Tell Their Worth

04/01/16
On Seeing the Light

Chuck, Paul, and Me

03/04/16
Two Roads in the Wood

Choose Wisely

02/26/16
Grave or No Grave

That is the Question

02/22/16
Best of Times, Worst of Times

It Is Your Choice; Choose Wisely

02/19/16
Buddha's Strange Parable...

Which We Need to Understand

02/15/16
The Value of Dreaming

About My List of Dulcineas

02/12/16
Dreams will come to you....

If You Are True to Your Quest

01/22/16
"I'm Dying, and I'm Having Fun."

Randy Pausch is Correct

01/15/16
The Little Match Girl

And The Golden Statue

01/11/16
The Gift of an Angel

It is More About My Feelings

01/06/16
I Know Who I Am...

And Have Found Two People Who Understand Me

12/04/15
What a Feeling

And It Is a Great Feeling

11/20/15
Dr. Marchand Knows Medicine Well...

And He Knows Life Well Also

11/2/15
Doubling Down...

To Make Dreams Come True

10/19/15
It's Confession Time...

And It Isn't Sunday

10/09/15
The Mahogany Bench

A Place for Dreaming....

10/07/15
A Great Dancer with Death

A Sobering Experience

09/21/15
Putting the Pieces Together

The Joy of Coming of Age

09/18/15
Agnes Majors in the Minors

A Big Fish in a Drying Up Small Pond

09/04/15
The Value of Standing on Desks

Allows One to See the World Clearly

08/17/15
A Man with a Mission...

Sinking a German U-boat

08/12/15
Darwin, van Gogh, and Lindbergh's Gifts

For Owen on His Third Birthday

07/20/15
What Matisse Taught Me Years Ago,

Which I Finally Fully Understand

07/10/15
Career Opportunity...

Being a Gladiator

06/19/15
Steve Jobs and Charles Dickens

How to Avoid the Ghosts

05/08/15
How Do We Learn?

The Lessons in Learning

04/13/15
Obama's Golden Opportunity

On Leaving a Legacy

02/13/15
Ozone to Ferguson

A Journey That Never Seems To End

01/05/15
It Was the Best of Times

It Was the Worst of Times....

01/01/15
A Hand Is Put Into Theirs...

And the Hand May Be a Little Child's

12/29/14
Serendipity...

Finding Without Looking

12/12/14
A Fool with a Plan...

Is Better Than a Genius with No Plan.

11/21/14
Joe Hill Died November 19, 1915

"I Never Died," Says He.

11/19/14
Seeing When You Think You See...

The Difference is Dazzling.

10/31/14
A Lesson of Life from Alexander the Great

"Each moment free from fear makes a man immortal."

10/17/14
On Seeing the Light...part II

And I Thought that I Had Seen the Light

10/10/14
My Dots in Life Get Connected

With the Singing of Pete Seeger

10/06/14
Pushing Oneself...

What I Learned from T. S. Eliot

09/14/14
Darkest Before Dawn

A Logical Disconnect that Is True

08/15/14
Come Alive...

Before You Die.

07/24/14
Orwell and Scottish Independence

Or Smell the Heather and Vote for Independence

07/18/14
Burma-Shave...

And Seeing the Light

07/07/14
The Chilling Reality of Global Warming

Where Does Lying Get Politicians and the Rest of Us?

06/28/14
Moravec Evolution

or the 21st Century Scopes Trial

06/21/14
Old Men Should Plant Trees...

And They Should Be Planted Now.

06/16/14
Connecting the Dots With Jack and Owen

Teaching Them To Be Steve Jobs-esque

06/14/14
Jack and Owen

Novice 21st Century Johnny Appleseeds

06/01/14
Right-Brain Pain and Gain...

Getting Organized After Seeing the Light

05/21/14
Leaving a Legacy...

A Concern of a 71-Year Old.

05/18/14
The Cosmic Calendar

...and Our Importance on the Pale Blue Dot

05/15/14
Advantages of Growing Old

...You Will Not Be Here in the 22nd Century

05/05/14
Good Trip / Bad Trip

...the Great Benefits of Bad Trips

04/21/14
Faulkner's Lesson of Life...

Even When the Last Ding-dong of Doom has Clanged.

04/17/14
On Seeing the Light...

More Clearly

03/28/14
The Value of Travel...

Or Learning About Myanmar.

03/07/14
The Two Ladies:

Parallels between the Ukraine and Myanmar

03/01/14
The Blessing and the Curse of the Internet

...Everyone Will Have a Saved Memory

02/20/14
I Have Seen the Light...

Thanks to Myanmar and Dr. Marchand

01/28/14